A shed roof is a roof which covers a shed, a small structure usually used for storage. Shed roofs can be built in a number of different ways, which vary in difficulty. There are advantages and disadvantages to each roof style which must be considered when building a shed roof or converting an existing shed roof into a different design. A contractor may have specific advice for a particular region or structure.
The simplest type of shed roof is the style known as a pent roof. A pent roof consists of a single slope, angled enough to allow water, snowmelt, and other materials to fall from the roof. This roof design also creates a great deal of usable space under the roof, because it lacks awkward corners and low points. Alternatively, a gable roof, in which two sloping signs meet at a peaked roofline, can be installed instead. The drawback with this style is that if the walls of the shed are low, there may not be much usable space under the roof.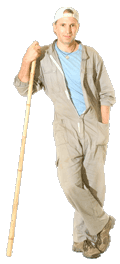 Shed roofs can also be done in a hipped or mansard design for more visual variation. Roofing materials can include composition shingle, slate, and wooden shingles; many people like to roof sheds in the same materials used to roof other structures on the property for some visual harmony. For people who wish to do this with a new shed, some companies provide matching services, finding roofing materials which will closely match existing materials in use so that the shed roof will blend in with the surrounding environment.
One thing to think about when installing a shed roof is seasonal weather. In areas with heavy snow, for example, a pent roof may not be advised, because snow could build up on the roof and potentially cause leaks or break the roof itself. People may also want to think about whether or not they plan on wiring and insulating the shed, as there are steps which can be taken during roofing to make this task easier.
Although a shed is not as critical as a structure like a home, it is still a good idea to take care of it. The roof should be installed properly, with gutters, fascia boards, and other features which will protect the roof and the shed during its lifetime. People should also be in the habit of replacing broken or damaged shingles promptly, before water intrusion and other problems have an opportunity to occur.
AS FEATURED ON:
AS FEATURED ON:







Worker