A hip roof is a style of roof in which the roof has four sides which all slope towards the eaves. Hipped roofs, as they are also called, are used in architecture all over the world, and there are a number of variations on the basic design. This type of roof can be a bit challenging to construct, but it requires less support and bracing than some other roof designs, and it creates a very even, solid appearance which some people find aesthetically pleasing.
In a house with a square floorplan, the hipped roof looks like a pyramid set on top of the house. The slope of the roof is often gentle to avoid creating a sharp point at top of the roofline. Rectangular houses have two trapezoidal sections which meet to create a roofline, with smaller triangular sections on the short sides of the house which meet up with the sides of the trapezoid to make a hip roof. In homes with irregular floorplans, a hipped roof can be created with a series of shapes which create an array of peaks and valleys.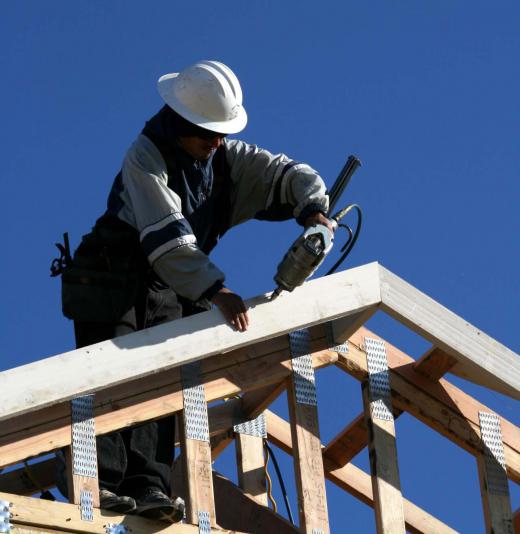 One variation on the hip roof is the mansard roof. In a mansard roof, each side of the roof actually has two sections. The bottom section is very steep, and the top section is quite shallow. The mansard roof design addresses one of the most common problems with the hip roof, which is lack of clearance under the roof. This design may be used when people want to create usable attic space or upper floors.
The hip roof can also be mixed with dormers. Dormers can vary in size, shape, and style, creating more room under the roof and generating more visual interest. Since a hip roof can look a bit blocky or chunky, dormers can also interrupt the line of the roof visually, making a house seem less cumbersome. Dormers also provide a way to admit more light into the structure, which can be beneficial when the design of a house is a bit dark.
While the hip roof can create a disadvantage because there is not much headroom under the roof, it has one distinct advantage, which is that it tends to resist high winds better than other roof designs. In regions where hurricanes and winter storms are common, hip roofs can be very popular, as they are more likely to survive. The roof provides minimal wind resistance, and the solid design helps it hold on to the walls.
AS FEATURED ON:
AS FEATURED ON:







By: Greg Pickens

A hip roof can be a bit challenging to construct, but it requires less support and bracing than some other roof designs.