What Is a Scaffolding Ladder?
A scaffolding ladder is a piece of equipment used to allow a worker to pass from one level of a scaffolding structure to another. This scaffolding ladder can be mounted to the outside of the structure or within it, depending on the needs of the builder and the type of scaffolding being used. In most cases, this piece of equipment is made from durable, strong metal such as steel, though lighter weight aluminum can be used as well to make placement and movement of the equipment much easier.
Smaller structures often feature a scaffolding ladder on each side, which allows the worker to reach a platform high off the ground. These structures are usually mobile and are mounted on casters or wheels that can be locked when the unit is in place. Much larger scaffolds may require the use of several ladders, or they may avoid the use of a scaffolding ladder altogether and instead use specially designed stairways that are much safer but bulkier and more difficult to move.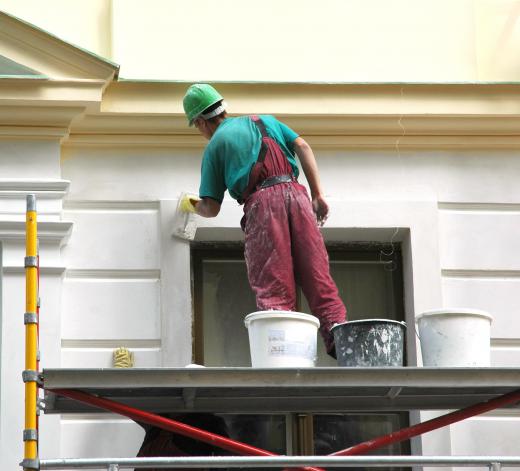 In most cases, the scaffolding ladder is fixed in place to prevent accidents and injuries, though in some cases the ladder may be a separate unit from the structure. The location of the ladder within or on the structure can also have a significant impact on the safety of the unit and the ease with which it can be used. Some ladders, for example, may be mounted within the scaffolding structure, and the worker will climb to a higher platform by moving through a hole in the platform. This may be convenient and it can cut down on used space, but it also poses a danger to any worker standing on the platform, as the hole is always open and exposed. The worker can fall through, thereby raising the risk of injury.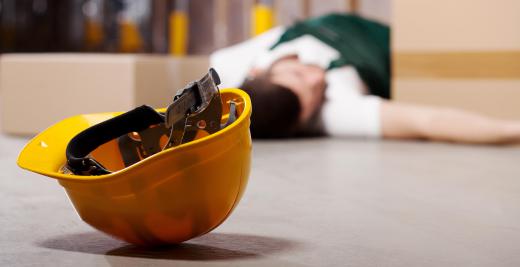 To avoid such risk, stairways are often used, or the ladder is mounted to the outside of the structure. A scaffolding ladder on the outside of the structure still poses a risk of falling, and any ladder will restrict the worker's ability to lift or carry items from one level to another. Stairways provide unrestricted access to higher levels, and workers on higher platforms are less at risk of falling into open holes, as the stairways will usually terminate at either end of the platform rather than in the middle of it. Railings can also be installed to prevent a worker from accidentally falling into the stairway.
AS FEATURED ON:
AS FEATURED ON:







By: Vladimirs Koskins

Scaffolds allow workers to reach high places.

By: Photographee.eu

In most cases, the scaffolding ladder is fixed in place to prevent accidents and injuries.