What Are Scaffolding Jacks?
Construction often involves working at heights above ground level. Scaffolding is used to provide a stable working platform for workers above ground level or in areas where ladders or lifting devices cannot reach. A scaffolding jack is a device that can level a scaffold, move a scaffold up or down or act as a support for scaffold planking.
Scaffolding is normally considered a temporary structure for interior or exterior worker access. Many work sites are not level, and scaffolding jacks help provide safe and level working surfaces at a variety of working heights above ground. Scaffolding jacks can be used with either metal or wood scaffolding, as specified by the manufacturer.
Screw jacks are scaffolding jacks used to level fixed scaffolding. Screw jacks are installed on a stable base and contain a large adjustable screw to move the scaffold up or down. After the scaffold is built, the screw jack is used to level the working platform before it is used.
Pump jacks lift a scaffold vertically along a support post. These jacks are commonly used for siding installation or exterior wall finishing. The vertical support posts are installed first and attached to the wall. The pump scaffolding jacks are attached to the vertical posts, and the scaffolding is attached to the pump jacks. A foot pump on the pump jack raises the scaffold, and a crank is used to lower the scaffold.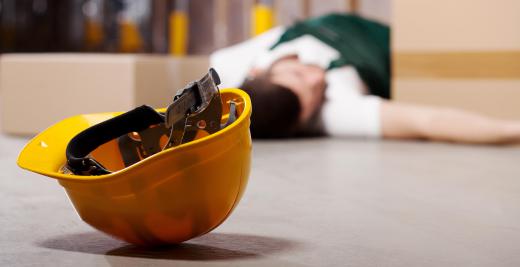 Another type of scaffolding jack is a ladder jack. Ladder jacks are not used to raise or level scaffolds. They are support platforms that attach to two ladders and allow a scaffold plank to be placed across them. Ladder jacks are simple devices that allow a quick scaffold installation but can be risky to use because they might lack handrails or other safety devices to protect workers.
Roof scaffolding jacks are similar to ladder jacks but install directly onto a roof to support scaffold planks. A roof jack does not move up or down like a pump jack but can be detached and easily moved to a different part of the roof. Roof scaffolds are often placed at the edge of a roof to provide fall protection if a worker slides down the roof, but they should never be the only fall protection for roof workers.
AS FEATURED ON:
AS FEATURED ON:







By: Andreas Karelias

Scaffolding jacks are used to ensure a level platform for workers.

By: Photographee.eu

Scaffolding jacks can be used to level a platform and reduce the risk of falls on a job site.