A paper baler compresses and binds paper into solid bales, making it easier to handle and transport. This equipment is most commonly used in recycling facilities that handle large volumes of paper along with cardboard and related materials. Several styles and designs are available, including horizontal and vertical balers for various settings. Horizontal balers typically handle more volume and can be easier to use with a conveyor belt. Vertical designs have a smaller footprint, which may be important in a facility with limited space.
These devices can work alongside a shredder which tears the paper into uniform pieces. Shredding is an important step in preparation for recycling, and it can also be necessary for confidentiality, to conceal information on the paper handled by the facility. The shredded or torn paper pours into the paper baler through a hopper and it uses a ram to compress the paper. Once it is pressed into a solid block, it can be bound with wire, twine, or cord to keep the bale under compression.
Some equipment wraps finished bales in plastic or paper for added protection and to limit litter. The finished bale may eject or roll out on a conveyor belt for automated handling. Equipment intended for automated applications tends to be larger because it has more hardware, and may also be more expensive. In other facilities, an operator may need to pull a lever to push the paper out and prepare the paper baler for the next load. If footprint is a concern, a vertical baler with an ejection lever can be cost effective and may meet space requirements.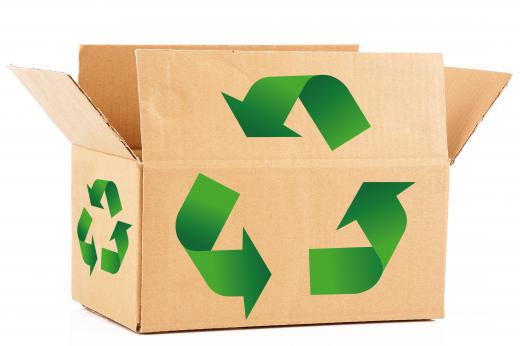 Multifunctionality can also be available with a paper baler. It may also handle cardboard, for example, along with aluminum cans and other compressible recyclables. Some facilities may need multifunction equipment to process all the materials they handle as efficiently as possible. They may not have enough recyclables to justify dedicated machines for different materials, or could have limited space for baling equipment.
In addition to being used for a recycling, a paper baler can also be utilized by a mobile shredding service. Such companies travel to sites with confidential documents, like law firms and medical offices. They shred old paperwork and can bale it for easier handling and disposal. These firms may rely on such services to help them get rid of old documentation while remaining compliant with the law.
AS FEATURED ON:
AS FEATURED ON:







By: rakratchada

A bag made of recycled paper that was once in a bale.

By: Giuseppe Porzani

Paper balers are most commonly used in recycling facilities that handle large amounts of paper and cardboard.