A guide rail, also known as a hand rail, is a type of construction that is meant to keep people and vehicles from entering dangerous areas. Frequently, guide rails are installed in public areas in order to prevent people from falling or walking into an unsafe place. In most parts of the world, any public place that includes a decline of 30" (76.2m) or more must also include a guide rail.
It is not uncommon to find a guide rail along a hiking path, roadway, in a scenic area, or circling the outer rim of a scenic overlook. In addition to natural areas, guide rails can also be found within most larger buildings. Frequently, builders are bound by law, in almost every country, to include a guide rail along a stairwell, ramp, balcony, or catwalk area.
The construction of a guide rail is extremely important. Rails can be made from cable, steel, metal, wood, or concrete, with concrete being the toughest rail material available. In most instances, a guide rail cannot include a gap that is more than 4" (10.2cm). If an opening were to be larger than four inches, any object could pass through the opening. Thus, all hand rails must include bars that are placed closely together.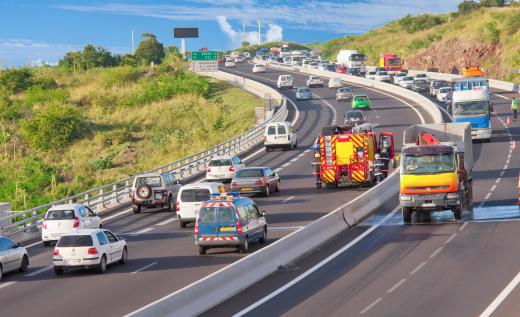 Most major highways throughout North America, and in other parts of the world, also have guide rails. These rails exist for the same reasons that industrial rails and handrails exist, only highway guide rails are stronger than regular guard rails. While roadway guide rails can stop a car from careening over a cliff or steep slope, there is some controversy surrounding the effectiveness of a highway guide rail.
Since a rail that is placed on a highway cannot completely absorb the impact of an automobile, cars and trucks are often deflected upon contacting a metal rail. This deflection can cause a car or truck to jut out into traffic, which, in turn, may cause other cars and trucks to collide. This is precisely why most transportation engineers do not place guide rails alongside every portion of a road.
Instead, these rails are primarily used when the condition of the road, or the area that surrounds it, is more dangerous than the rail itself. As a result of the debate surrounding guide rails, many transportation departments across the globe are now opting for collapsible rails. These rails bend upon impact, which slows down a vehicle, eliminating the possibility of deflection.
AS FEATURED ON:
AS FEATURED ON:







By: chungking

There is some controversy regarding the effectiveness of highway guide rails.

By: Unclesam

Many transportation analysts now advocate the use of collapsible guard rails.