What is a Fiberglass Ladder?
Since the middle of the 20th century, the manufacture of fiberglass ladders has become commonplace. From the simple two and three step kitchen ladders to retractable models that are ideal for exterior house painting, the fiberglass ladder is considered a popular choice that is lightweight, durable, and easy to store. Here is some information about the history of fiberglass, the creation of the first fiberglass ladder and some of the different types of fiberglass ladders on the market today.
While there had been experimentation with the use of glass fibers for a number of years, it was not until the late 19th century that the fibers of glass were successfully combined with silk fibers to make a durable cloth. This innovation opened the door to attempting to utilize glass fibers in the creation of a number of home based goods.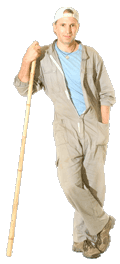 By 1938, Russell Games Slayter of Owens-Corning perfected a glass fiber and plastics mix for use in making insulation. The process was trademarked as Fiberglas™, and with the addition of a second "s" at the end, became the generic name for all such glass fiber and synthetic fiber combinations. By incorporating glass fibers into the blend of hard plastics, the concept of fiberglass for constructing ladders of all sizes was born.
Emerson Professional Tools was one of the first companies to employ fiberglass materials to the construction of ladders. Beginning with the creation of an aluminum and fiberglass hybrid ladder and then moving on to the design of a kitchen step ladder that was composed of fiberglass components and sturdy iron hardware, Emerson led the way in popularizing the various types of the fiberglass ladder.
A main focus of the home market advertising was spotlighting the lightweight construction of the two and three stepladders as ideal for the housewife. Handy for reaching the top shelves of closets and cupboards, the fiberglass ladder was not hard to get out of the closet, set up, and then store away after use. This was in contrast to heavier metal and wooden ladders, which were often bulkier and certainly were heavier.
As time went on, improvements in the design of the fiberglass components made it possible for the ladders to handle a heavier load. This meant the lightweight fiberglass ladder could move from the inside to the outside. Homeowners could now use a fiberglass ladder for a number of projects around the house, such as painting, washing second floor windows, and cleaning leaves out of the drains.
Cost also was and is an advantage of the fiberglass ladder. Fiberglass is easy to create and the components of the ladders can actually be constructed with the use of molds, which speeds up the manufacturing process. The result is a quality product that is cost efficient in comparison to many types of ladders and will work just fine for a number of household maintenance tasks.
AS FEATURED ON:
AS FEATURED ON:







Worker