What is a Diaphragm Valve?
A diaphragm valve is a control device that utilizes a flexible membrane to close, or shut, an opening. Pressure increase or decrease on either side of the diaphragm causes the valve to move its position. Often, these valves are used in industries like food processing, pharmaceutical manufacturing, mining, and pollution control, among others. They can be made from a variety of plastics and metals, depending on which application they will be used for.
The operating power for a diaphragm valve can come from a variety of sources. A pneumatic diaphragm valve uses air pressure to open or close it. Sometime a solenoid — a wire-wrapped metallic component that can produce a magnetic field in the presence of electricity — is employed to actuate the valve. Other times, it can be operated manually. In addition, hydraulic pressure is also commonly utilized.
There are two basic types of diaphragm valves — weir, or saddle type, and straight-way, or straight through, which seals over a seat. Weir valves typically have ports directly opposite each other on the valve. This kind is often used in pipes, through which gas, fluid, or slurry flow need to be regulated. Straight-way valves' ports are generally at 90° angles to each other. These can often be found at the bottom of tanks. When they are used in this manner, they are referred to as tank valves and regulate outflow.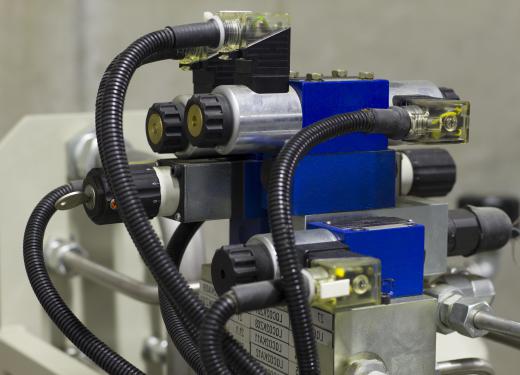 Some of these valves are employed as diaphragm control valves. These are automated and used to restrict flow. Others are used as diaphragm check valves. These are normally in a closed position, but when pressure builds from upstream of the valve, they open. They then close automatically when pressure drops.
Generally, a diaphragm valve uses an elastomeric, or stretchy rubber-like, substance for its membrane. Some common materials used are natural rubber, silicone rubber, and nitrile, among others. The body of the diaphragm valve can be made of metal or plastic. If the body is made of metal — either cast iron, ductile iron, stainless steel, or carbon steel are used. If it is made of plastic, many materials — such as polyvinyl chloride (PVC) or polypropylene (PP) — can be used.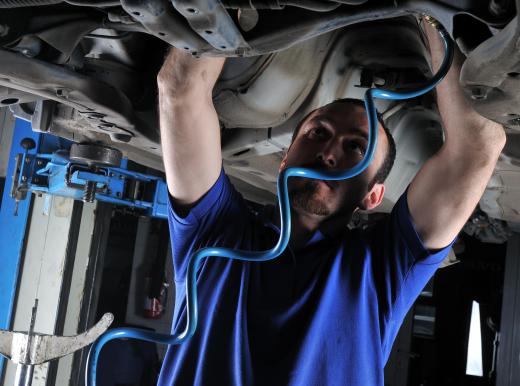 In addition to being utilized in industrial and manufacturing processes, diaphragm valves of all kinds can be found in automatic sprinkler and irrigation systems, washing machines, and paintball guns. Many of these valves are often named for their uses. They include the two-way shut-off valve, sterile access ports, and three-way deadleg valves.
AS FEATURED ON:
AS FEATURED ON:







By: dmitryelagin

A diapragm valve is a control device that can be used for pollution control.

By: emel82

A pneumatic solenoid valve is a type of standard electro-mechanical solenoid that opens a valve under positive or negative air pressure.

By: uwimages

Pneumatic diaphragm valves make it possible for mechanics to fine tune the operation of their air wrenches and similar tools.