What is a Cladding System?
A cladding system is any family or group of products meant to serve as decorative or protective coverings for walls, roofs, ceilings, or floors of buildings. There are many different types of materials used in these systems including wood, concrete, steel, and a range of PVC and composite materials. These coverings do not form part of the load bearing structure of any building and are typically installed with surface fastening techniques only. Cladding systems may be installed during the initial construction of buildings or may be retrofitted to existing structures during refurbishments or repairs. The unique, cost-effective characteristics of these materials allow engineers and architects to use them in the core structure of a building.
The material used in cladding systems are formulated to enhance the visual appearance of a building while offering thermal and sound insulation in addition to protection against the elements. The use of these materials also prevents conditions such as ground water seepage from damaging the structure. Cladding systems are available in an extensive range of materials, textures, and color schemes which cater to all building designs. Although they are typically used on the exterior, they are also available as interior finishes for walls floors and ceilings. Commonly used cladding system materials include precast concrete, masonry, and ceramic products, timber, steel and alloys, plastics, and reinforced composites.
Cladding system finishes may be installed during the final stages of new construction or installed during refurbishment of existing structures. Cladding materials are also frequently installed as a visual and preventative solution to effect repairs of environmental damage. These materials are typically surface mounted and do not form an integral part of the structures load bearing abilities. Precast concrete, masonry, and ceramic products are typically attached to the structural surfaces of a building with mortar or adhesives. Timber, metal, and plastic cladding elements are generally secured with screws, nails, or bolts.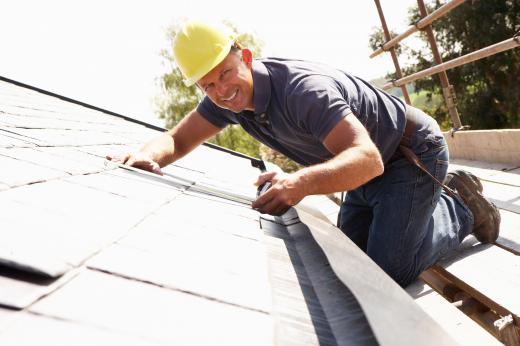 The integration of a cladding system into a buildings design allows architects and builders to use cheaper and quicker construction methods and materials for the core structure. Aesthetic appeal and protective elements are then added with the installation of the cladding system. The fact that most cladding systems consist of thin veneers makes them a particularly cost effective solution while not detracting from their functionality. This characteristic also makes cladding system materials relatively light weight solutions which do not tax the load bearing abilities of the structures they enhance.
AS FEATURED ON:
AS FEATURED ON:







By: Alx

Stacked stone often is chosen to cover portions of interior or exterior walls.

By: Monkey Business

Cladding installation is a special skill among roofers and roofing installation technicians.

By: Ludmila Smite

Steel cladding is a type of construction material used to finish the exterior walls of a building.