What is a Circulating Pump?
Many fluid systems require a frequent or continuous flow of liquid. A circulating pump is used to move a liquid through a fluid piping system. This type of pump is commonly used in heating and cooling systems, and in applications that require a mix of liquids and powders. Selection of a circulating pump for a specific application is usually based on the type of solution, flow rate, and operating conditions, such as temperature and pressure.
A home water heating system operates using a circulation pump to move hot water from a boiler through a series of metal pipes. Heat is given off as the water flows through the piping and back into the boiler. The heat generated by the hot water in the pipes can warm a room in a house. A circulating water pump is turned on and off to move hot water through the pipes, and maintain a set temperature in the room. Water cooling systems operate very similarly but use cold water for cooling.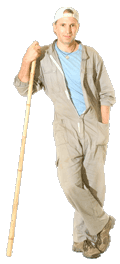 The main parts of a circulating pump are the housing, impeller, motor, and support bearings. The pump housing typically consists of a cavity that contains the moving parts of the pump, while maintaining a liquid-tight seal. A motor is used to rotate the impeller inside the pump housing. The impeller is supported by the bearings and has a series of blades that force the fluid in the desired direction.
A circulating pump can also be used when a liquid and powder are combined in a solution. In some applications, the addition of a powdered material must be carefully controlled to ensure that the final properties of the mixed solution meet specifications. Many mixing processes use a vessel with an impeller near the bottom that rotates constantly to keep the materials mixed together. A piping system is used to circulate the solution outside of the vessel so that powder can be added into the flowing liquid to ensure uniform addition.
Most circulating pumps are electrically powered, but may also be powered using air pressure or hydraulic fluid. The materials used for manufacturing a circulating pump will vary based on the type of solution and operating conditions. For piping systems that use water, aluminum or cast iron housings with bronze or stainless steel internal components are often used. For applications using fluids that are highly corrosive, or that operate at high temperatures or pressures, titanium, metal alloys, and chemically-resistant plastics may be used to maintain acceptable pump performance and life.
AS FEATURED ON:
AS FEATURED ON:







Worker