A cement block may also be called a concrete block, a foundation block, or a concrete masonry unit (CMU). It is also known as a breeze block, a cinder block, or a clinker block. These blocks are made with a mixture of Portland cement, aggregate, and water. The standard size is listed as 8 inches x 8 inches x 16 inches (20 cm x 20 cm x 41 cm) in the US and 44 cm x 21.5 cm x 10 cm (17.3 inches x 8.5 inches x 3.9 inches) in the UK, although the blocks are actually a bit smaller to allow room for mortar joints. Some cement block companies will make other sizes upon request.
The most common aggregate for cement blocks is a mixture of sand and gravel. This is mixed as a rather dry, low-slump mix that results in a hard, durable cement block. Aerated concrete can be used to make blocks that are lighter in weight but still very strong.
Industrial wastes are sometimes used as aggregate, but the cement blocks will be lower in density and therefore less durable. Cinder blocks, called breeze blocks in the UK, have cinders in the aggregate, and clinker blocks have clinkers. These blocks have less compressive strength and are not suitable for foundation work.
The first cement block was manufactured in 1882. Concrete blocks are now manufactured with a machine that molds the wet concrete mix into standard shapes. The blocks are cured inside a special chamber at high temperatures. They are then stored to dry completely.
Most concrete blocks are manufactured with hollow chambers. This makes the block a bit lighter weight and easier to handle. More important, the hollow chambers make it possible to drive reinforcing bars vertically through the wall, giving it added strength. The chambers are then filled with wet concrete, which dries to create a strong wall with great thermal properties.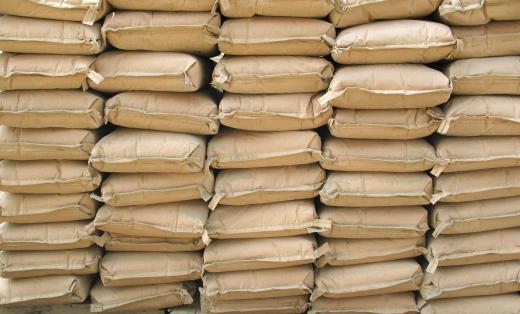 Because threading the open chambers of a cement block over rebar that has already been driven into place is a slow process, a special kind of concrete block has been developed to make the procedure faster. These open-ended blocks are often called speed blocks, and they are shaped like the letter H. Instead of being lowered onto the wall from above, these blocks can be edged between the reinforcing bars and slipped into place. This makes the job far less time-consuming.
Cement block construction is often considered an eco-friendly building material. Cement blocks are durable, but they are not very portable. Most concrete blocks are manufactured within 50 miles (80.5 km) of the building site, and most are made from local materials.
AS FEATURED ON:
AS FEATURED ON:







By: eldadcarin

A cement block is also known as a breeze block.

By: zimmytws

Most concrete blocks have hollow chambers.

By: Yali Shi

Cement powder is commonly made of lime and clay and is a key ingredient of concrete.

By: stoonn

Cement blocks are commonly used for both the foundation and load-bearing walls of buildings.