What are the Different Types of Pipe Joint?
A pipe joint is a key component to any successful plumbing system, and it can be used nearly anywhere to help withstand the pressure of each pipe. There are three categories of these joints, with several areas within each category. The first set focuses on flared and sweated joints, and copper pipe is most commonly associated with both of these. When flaring a pipe, it is formed into a funnel shape, resulting in the piece of pipe being threaded and held into place by the next piece, creating a line. Sweated joints use soft solder instead of threads.
Cast iron pipes have their own set of joints. Ball-and-spigot and mechanical joints have cast iron plumbing pipes and fittings for water mains. Mechanical joints are metal rings that are bolted into place and fitted rubber sealing. When galvanized pipe comes into play, the male and female ends of pipe are threaded together to form a bond.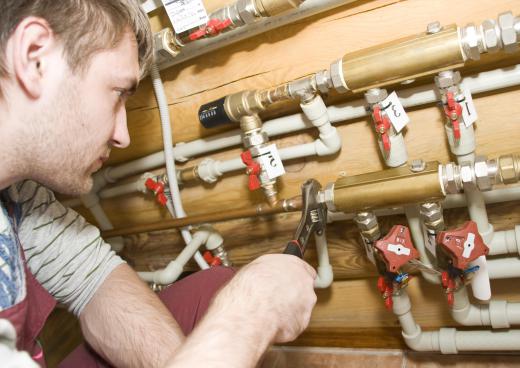 The other type of pipe joint is found in plastic pipes, where there are five different types a plumber can use. Solvent welded joints typically use a solvent cement of some sort to stick the two pipes together. In such a case, the two pipes being connected must be thermally balanced, or have similar temperatures. In fillet welded joints, a welding rod is used for the bond. This is typical of repairing leaks to thermoplastics.
Fusion welded joints use gas or electricity to weld the pipes together, and the two pieces of pipe essentially melt together and form a bond. For pipes which are dislodged frequently, flanged joints are used most often. Threaded joints are for the quick, temporary fix, and these joints are typically used in low pressure pipe situations.
Other, less used varieties of pipe joints include those in glass piping, malleable iron pipe fittings, flanged joints without gaskets, and joints in lined metallic piping. Joints to be covered can be permanent or temporary, and while the joint has been around for many years, it is continuing to become more evolved and better produced.
AS FEATURED ON:
AS FEATURED ON:







By: Nomad_Soul

The material a pipe is made from determines the different types of joints available.

By: RZ

Copper pipes with a tee joint.

By: ra3rn

There are five different types of plastic pipe joints a plumber can use.

A brass pipe fitting.

By: Emilian Robert Vicol

Pipes can be joined together by threading, just like nuts and bolts.

By: auremar

A special solvent cement is used to connect PVC pipes.