What are the Different Types of Beam Design?
In structural engineering, beam analysis is crucial for building safety. There are many different types of beam design from which to choose. It can sometimes be challenging for even the most experienced engineer to decide on the best beam for each architectural structure. Beam choice must provide the most structural integrity possible. Different shapes, sizes, techniques and materials support different structural loads. The I-beam, flitch, cantilever and hip are some of the most commonly used types of beam design.
The hip type of beam is used mostly in the construction of residential roofs. Hip beams support the angled beam used in many house roof designs. The hip beam is designed to support a triangular-shaped load, such as that of a sloped or pitched roof frame.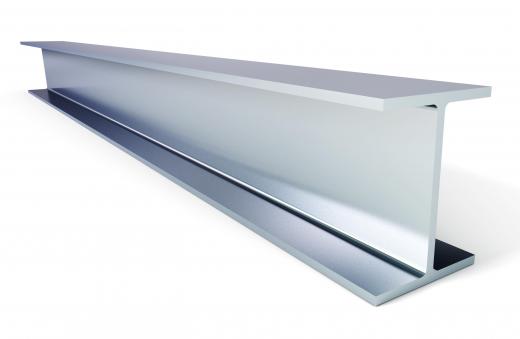 Cantilever beams are used to suspend structures such as balconies. Most of the weight is distributed onto the foundation beams. This weight distribution permits a building extension such as a balcony to be safely supported. Cantilever beams are also sometimes referred to as an end load beam type since the loads are always supported mainly on one side. Some bridges are designed with cantilever beams in their construction.
Flitch beam design types are made from layers of wood and steel since they're designed to be strong as well as lightweight. Since flitch beams aren't made of solid steel, they're less expensive than pure metal varieties. A flitch beam type is used to nail into place on wood structures to provide extra support. Pure steel beams can't be nailed onto wood, so fitch beams have a distinct advantage over solid metal on wooden building exteriors. Flitch beams are designed to support vertical loads.
I-beams are by far the most common type of beam design used in construction; they're known as the universal beam. I-beams are columns that are straight in shape. They may be arranged into different support patterns that can form L, W, H and V shapes, among others. Rounded I-beams called C-channels may also be used in some specialty construction applications. I-beams may be used to create long spans of support in floors, walls and roofs.
Beam design software is an analytical tool used to help in the selection of appropriate beams for a particular structure. A beam calculator determines what load beams of a certain shape and size will support. The material and building technique information are inputted before being calculated by beam design software.
AS FEATURED ON:
AS FEATURED ON:







Steel I-beam.

By: andrey_plant

Cantilever beams are used in some bridge construction.

By: tiero

Steel beams are manufactured in a number of shapes and lengths.

By: Stephen Finn

Cantilever bridges are designed to hold heavy loads, such as constant automobile traffic.

By: sattriani

Most modern buildings uses steel beams down to their foundations.