What Are the Best Tips for Scaffolding Safety?
An important part of staying safe on a construction site is following some scaffolding safety rules. Doing so should help keep workers free from harm while making the construction process run as smoothly as possible. Some tips include having scaffolding inspected before use, setting scaffolding on flat ground, keeping surrounding areas clean, not going over the weight limit, and not working in inclement weather.
One of the most important parts of scaffolding safety is to first have an experienced individual thoroughly inspect the work site and scaffolding before beginning each job. Usually, this will be up to the construction foreman who is in charge of a project. He should check all parts and determine that everything is in sound working order before any workers use the scaffolding. Moreover, he should check the entire work site in general, and make sure there are no other safety hazards.
Another scaffolding safety measure is fairly obvious, and that is ensuring that the scaffolding is situated on flat, stable ground. Numerous accidents can occur if the structure isn't completely stabilized. In addition, all wheels should be should be locked before beginning use. This should make it easier for workers to move around as needed without risking a fall.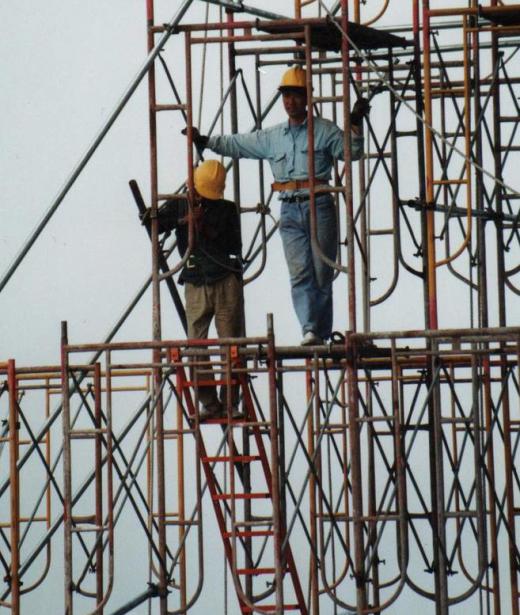 Keeping all surrounding areas on a work site clean and free from debris is another essential part of scaffolding safety. One way to keep an area clean is for workers to only bring the necessary tools onto the scaffolding. It's usually better to make an additional trip and remain safe, rather than creating tripping hazards by bringing along multiple tools at once. Having a crew member sweep and clean off the area at the end of each day is another way to avoid this problem. Along with this, all workers should be wearing slip resistant footwear and a hard hat.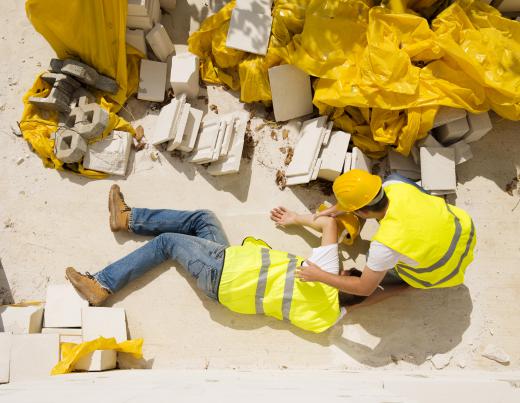 Being aware of the weight limit of scaffolding is another important safety concern. Having too many workers in a concentrated area could potentially cause a collapse. Usually, each set of scaffolding will have a certain load limit that will dictate how many workers can be on it at a time. Crew members should know the weight load and be careful to distribute their weight evenly to avoid overloading the scaffolding.
Additionally, work should never be done in inclement weather. This means that scaffolding should not be used when it's raining, snowing, windy or during any other potentially dangerous weather conditions. It may delay the project slightly, but it's better to play it safe than risk injury.
AS FEATURED ON:
AS FEATURED ON:







By: Aleksandar Kosev

Workers should wear hard hats for scaffolding safety.

By: ozz13x

Scaffolding workers must not be fearful of heights.

By: Halfpoint

Numerous accidents can occur if the scaffolding structure is not completely stabilized.