What are Concrete Stamps?
Concrete stamps are used to press decorative or natural patterns into wet concrete for adding a great custom look to any patio, driveway, walkway or plaza. Concrete stamps, along with various finishing techniques, can "transform" concrete into polished, aged cobblestones, brickwork, flagstaff stones, slate tile, marble, granite, wood, or just about any natural surface. They're even great for interior floors!
Color is added directly to the concrete mix to provide uniformity, permanence, and often enhances the strength and durability of the mix through additives and "conditioners." Color dry-shake hardeners can also be added to produce a stronger, slip-resistant surface for heavy-duty foot traffic as in the case of a walkway, or for vehicular use as in the case of a driveway. Hardeners add rich, deep tones or subtle colors to your concrete project while at the same time making it less vulnerable to surface abrasion, cracking and soiling.
Concrete stamps are also used in conjunction with color staining products that can produce multicolored, translucent surfaces that realistically simulate the variegated shading effects of natural stone. These stains interact chemically with the concrete to become part of the surface and will not fade or peel. A final coating or sealer is applied after staining to protect the surface.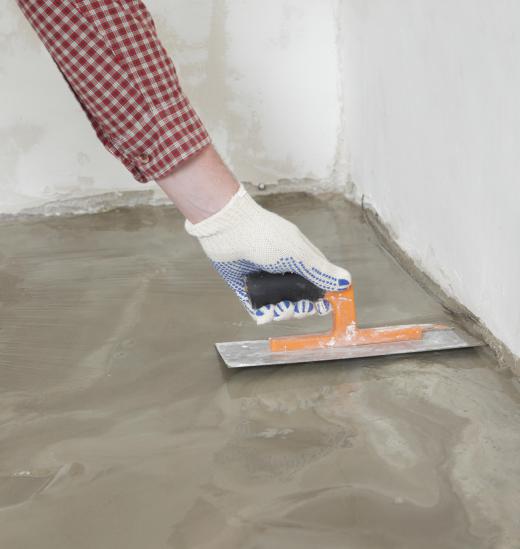 When using concrete stamps a bond-breaking powder release keeps the stamps and other tools from sticking to the vulnerable surface of the wet concrete, which would ruin the effect. The powder release may have artistic properties too, as in the case of antique release that adds a naturally weathered appearance to enhance depth, pattern and color, creating a very convincing finish.
If you need to fill an oversized area with an irregular, random pattern, it's sometimes easier to use large embossing skins rather than concrete stamps. Embossing skins are thin mats that that can be used with liquid bond-breakers to texturize large areas. Mats typically come in sizes ranging from 3 square feet (.28 square meters) to 25 square feet (2.32 square meters). In this case grout or joint lines must cut by hand.
If you already have a concrete or cement patio, porch, driveway or walkway, but would like to update it, there is a less expensive alternative to digging up the old concrete and having it repoured to use with concrete stamps. Instead you might consider have it resurfaced by using a cement stencil grade topping.
A new surface is spread and a plastic coated adhesive stencil is laid down. The proper color is applied and when the stencil is removed, it leaves "gray grout lines" as if between brick, stone, tile, or the pattern of your choice. Stencil topping creates a great faux-natural look at a fraction of the cost, while creating a better, stronger wear-resistant surface. This process can involve texturizing and other finishing techniques as well. Multiple stencils can be used to create attractive patterns. For example, a swimming pool might have a "red brick border" with a surrounding "stone deck."
Concrete stamps come in a variety of patterns and sizes and can even be custom made. An average price might be $100 - $350 U.S. dollars, but they can run higher. Finishing techniques also cost extra. However, concrete stamps provide an economical alternative to natural stone and improve not just the beauty but also the value of your property. From colorfully painted floral stamps for borders to insignias, monograms or family seals, concrete stamps can say anything from the personal to the ancient, from the modern to the classic. Creative or conservative, they will open your home or commercial property to possibilities bound only by your imagination.
AS FEATURED ON:
AS FEATURED ON:







By: Pictures news

Concrete stamps are used to press patterns or designs into freshly poured concrete.

By: Lilyana Vynogradova

Concrete stamps easily transform plain concrete into attractive interior floors.