In Construction, what is a Concrete Slab?
A concrete slab is the foundation of a house or building in construction, made using concrete. This is a foundation that is flat, uniform, at ground level, and is not segmented. Without a solid concrete slab, the entire home could become unstable and its use could be problematic. These types of foundation have their advantages and disadvantages in building construction. In the end, using a slab is a personal choice based on the requirements of the owner.
The most common material for a foundation for a home or building is the concrete slab. Other common types of slab foundations include brick, stone and concrete block. In very rare cases, specially-treated lumber, which is resistant to decay and termites, may be used.
The importance of a concrete slab cannot be overstated. It is the one part of the home that will bear the weight of everything that is placed on top it. It will also protect the wood and other housing materials from elements that may compromise their function, such as moisture and insects. Furthermore, it will lay out the dimensions of a home.
Most homes in the United States and many other parts of the world either have a concrete slab foundation or a raised foundation. While the slab is the most popular choice in the United States, raised foundations can also have advantages. On the whole, this type of foundation is thought to last longer and be easier to maintain.
With that said, concrete slabs also have some disadvantages. The biggest disadvantage is the lack of room for a basement. There is simply no way to easily put a basement into a home with a slab foundation. Therefore, it is often not used in areas where basements are considered essential parts of the home, such as in the Midwest. However, in warmer climates or places with a higher water table, concrete slabs are often used. Also, if there is a problem underneath the home, such as with the plumbing, a slab makes it harder to deal with.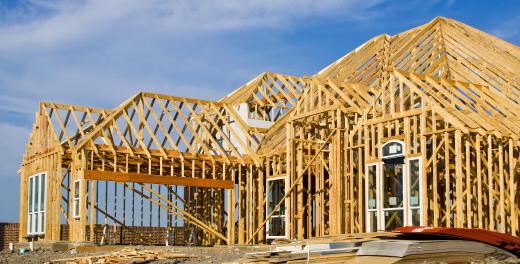 Cracking can also occur within the concrete. While this may be a minor inconvenience in some cases, it can also be a big problem. If the cracks become more serious than just hairline fractures, it could affect some types of flooring, such as hardwood and tile. While there may be some repair options, such as using high-strength epoxy, multiple slab cracks could be a very difficult situation.
In building concrete slab, a number of steps need to be taken before the pouring of the concrete. To prevent cracks, the earth beneath it must be compacted very well. Also, sand and gravel is usually placed down between the earth and concrete to protect the foundation from moisture.
AS FEATURED ON:
AS FEATURED ON:







By: TristanBM

Concrete slabs often serve as foundations for homes and other buildings.

By: Mitchell Knapton

A quality concrete slab is essential to a structure's integrity.

By: leekris

A concrete slab can provide the foundation for the rest of a construction.

By: Kadmy

Larger poured slabs, such as garage floors or house foundations, may require the use of a power concrete trowel.