How do I Choose the Best Pallet Lift Truck?
The best pallet lift truck provides reliable service, is easy to operate, and is low maintenance. A pallet lift truck is used to move wooden or plastic pallets. A pallet or skid is a flat box used as a base to support stacks of goods or materials. Items or packages are typically stacked onto a pallet and then wrapped with plastic stretch wrap to secure it. The entire pallet is then moved using a pallet lift truck or fork lift. These units are widely distributed and can be found in any warehouse around the world.
The most important item to consider when looking to purchase a pallet lift truck is reliability. A lift truck is necessary to move a loaded pallet and is generally a much easier way to move empty pallets as well. A reliable unit typically has an excellent warranty and is made with quality parts. Look for a unit that has minimal maintenance requirements and is easy to use.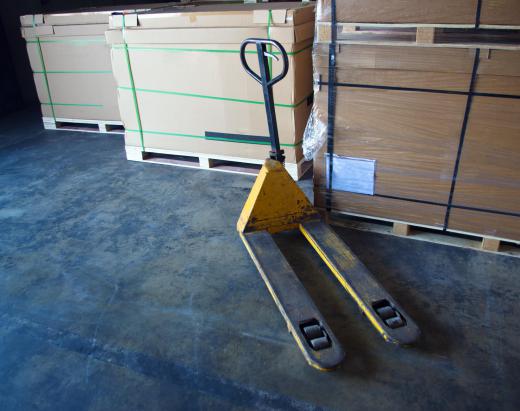 Most pallet lift trucks are pump based, with the control located in the handle. The overall operation should be simple and fairly intuitive. Typically, squeezing the handle activates the pump, moving the truck up. To use this type of pallet lift truck, push the forks into the spaces in the pallet. Squeeze the handle to lift it up, and then move the truck.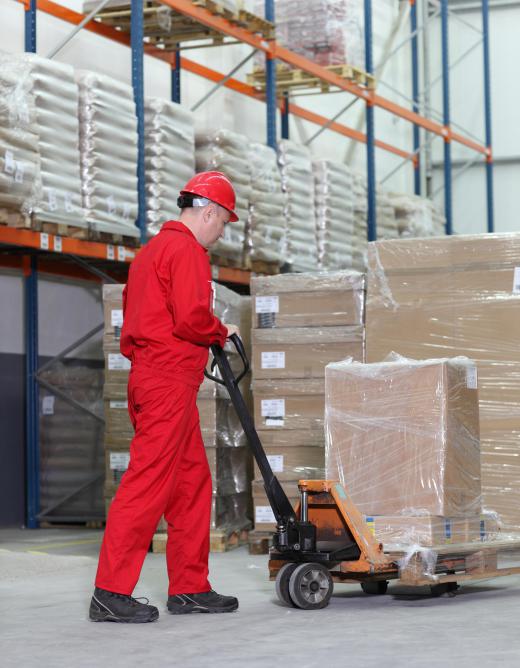 Cost is an important factor to consider when looking for a pallet lift truck. In general, the greater the lift capacity, the more expensive the truck. All pallet lift trucks are rated to move a specific weight. Look at the type of materials that need to be moved and determine the upper and lower weight limits. Other factors, such as storage locations, packaging, and item shape may also limit the total weight the lift truck is required to move.
There are many colors and styles of lift trucks available. It is best to invest the time and effort to review these options before making a selection. This type of equipment is available from resellers or directly from the manufacturer. Ask for references and follow up to get a real sense of both the product quality and service provided.
A properly scoped pallet lift truck can last up to 15 years of full-time service. This is based on skilled use and regular maintenance. These units typically require a detailed inspection, application of joint lube, and cleaning once a year.
AS FEATURED ON:
AS FEATURED ON:







By: sharplaninac

Hand pallet trucks are relatively small.

By: endostock

Manual pallet jacks operate hydraulically to allow lifting of heavy objects.