Station wear refers to a standard uniform worn by firefighters at the station house while awaiting calls for service. This clothing typically consists of fire-resistant, lightweight, navy blue shirts and pants. Captains and other veteran firefighters might wear white shirts with brass on the collar to indicate rank. Station gear usually includes a patch with the fire departments insignia, a name tag over the pocket to identify the firefighter, and a badge. Steel-toed boots that zip closed represent a standard style of footwear included as station wear.
In some fire departments, station wear incorporates a tool belt to enable a firefighter to keep commonly used items close. Typical equipment includes a flashlight, knife, multi-use tool, and a device to break glass. A pager and cellular telephone, and a two-way radio, provide rapid communication when a call for service comes in. Gloves, a cardiopulmonary respiration mask, and a rope might be part of typical station wear.
The lightweight uniform permits a firefighter to quickly don protective gear when called to an emergency. In some regions, firefighters travel to medical emergencies as the first responders. Station wear allows them to quickly put on outer clothing that blocks bodily fluids that pose a health risk. The outer layer commonly includes a moisture barrier that allows free movement, but repels blood-borne contaminants. Gloves and face shields protect these parts of the body.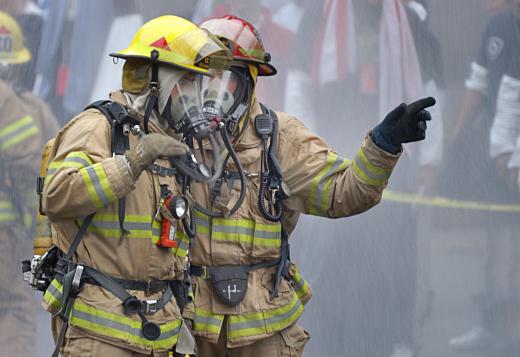 Station wear might be worn under wildland fire gear designed to offer protection when rural blazes erupt. Wildland protective gear releases body heat while allowing easy movement over rough terrain. Boots designed for long hours hiking over uneven ground and rocks also protect the feet from extreme heat if firefighters walk on ashes. The boots commonly include ankle protection to guard against snake bites. Reflective strips on the uniform make firefighters visible at night to increase safety.
In hazardous material spill incidents, station wear is typically covered with specialized clothing designed for different levels of risk. This protective clothing meets specifications for hazardous materials in liquid, particle, and vapor forms. Depending upon the type of chemical or substance, its level of concentration, and form, one of several protective suits might be worn, typically with breathing apparatus to provide fresh oxygen.
For serious fire protection, two types of outerwear fit over station wear. Aluminum-treated coats, pants, and boots reflect heat away from firefighters when they respond to a blaze with intense heat. This type of gear proves useful in oil or gas fires, and airplane crashes. A hood and helmet protect the neck and head, and a coated face shield reflects heat without obscuring visibility.
Heavy outerwear worn at structural fires consists of three layers of material that offer protection and moisture barriers. The outer shell is flame resistant, while the middle layer protects the skin from contact with chemicals, acids, and heat. The inner thermal layer traps air to control the amount of perspiration that remains on the skin.
AS FEATURED ON:
AS FEATURED ON:







By: dmitrimaruta

Station wear can be worn under protective suits when firefighters respond to a hazardous material incident.

By: mario beauregard

Heavy, flame-resistant uiniforms are worn over station wear.

By: Maimento

Certain reflective gear on uniforms makes firefighters visible at night to increase safety.