Seismic safety is a collection of policies, practices, and activities concerned with increasing safety of people, animals, and properties during seismic events such as earthquakes and volcanic eruptions. In geologically active areas, seismic safety may be a major concern, with entire departments within government agencies dedicated to seismic safety, while in other areas, seismic safety may be handled under the umbrella of building departments and community safety agencies. The practice of earthquake safety includes everything from inspecting new structures to confirm that they adhere to safety standards to educating school children about what to do during an earthquake.
One area of seismic safety is concerned with seismic monitoring and studying the Earth to learn more about seismic activity and to issue warnings about seismic events. For example, when a major earthquake is detected offshore, government agencies can issue a tsunami warning to alert people to the fact that a dangerous event may be likely to occur. Seismologists are also interested in studying patterns of seismic activity so that they can learn to predict major earthquakes and volcanic eruptions before they occur, providing opportunities for preparation and evacuation.
Seismic safety is also involved in the establishment of building codes which are designed to reduce hazardous conditions, such as hot water heater bracing laws, and the enforcement of such codes. In seismically active areas, specialty contractors also provide retrofitting services to existing structure to bring them up to code so that they will be safe in an earthquake. By securing buildings, seismic safety advocates can greatly reduce the risk of damage or deaths in an earthquake. Earthquake retrofitting is a major concern in many areas as older structures may not withstand an earthquake.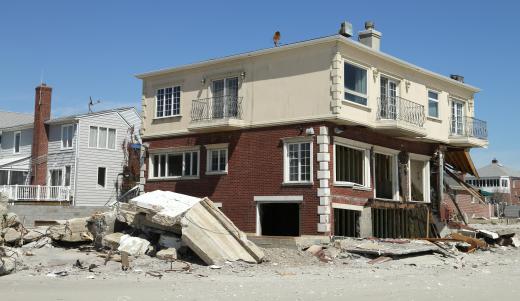 Education is another key aspect of seismic safety practice. Residents in areas prone to seismic events are provided with information about how to secure the interior of a home to reduce the risk of earthquake damage, and they are also provided with training which will allow them to respond quickly in an earthquake. Schools and workplaces may hold periodic seismic safety drills to allow people to practice emergency response.
Training and outfitting of emergency responders is also a concern. Community agencies in earthquake-prone areas periodically hold mock earthquake drills so that emergency responders can practice responding to emergencies caused by seismic activity. These drills are designed to reveal areas of weakness which need to be addressed so that they do not become a problem in a real emergency, and to familiarize people with procedures so that they come as second nature, cutting down on response time.
AS FEATURED ON:
AS FEATURED ON:







By: sparky

Earthquakes often cause cracks in the earth's crust.

By: Leonard Zhukovsky

Seismic safety involves establishing building codes which reduce hazardous conditions in the event of an earthquake.

By: LG Images

Homes can be modified and inspected to ensure they can withstand the shakes of an earthquake.