What is Pharmaceutical Contract Manufacturing?
Pharmaceutical contract manufacturing is a process whereby a business that sells pharmaceuticals enters into a contract with a separate manufacturing company to produce one or two products. There are many ways that the contract manufacturing of pharmaceuticals saves businesses money. It is a popular method for reducing overhead costs and avoiding regulations associated with the production of pharmaceuticals and related products.
The main reason a pharmaceutical company would be interested in pharmaceutical contract manufacturing through another company is efficiency. If a company that sells pharmaceuticals is unable to produce either medicines or their packaging in their own facilities, or if making their facilities capable of mass production would be expensive, then that company is likely to look into contract manufacturing. Pharmaceutical contract manufacturing companies are already set up to produce large amounts of pharmaceuticals and can do so cheaply. The contracting company can then get the needed products at a bulk price.
Another advantage that contract manufacturing offers pharmaceutical companies is that it allows them to focus their resources on a more specific area of their business. At the same time, the contract manufacturers are allowed to specialize in the production of drugs. With the production being handled by a different company, the pharmaceutical companies may use the resources they save to focus on research and development, marketing, and other areas of the pharmaceutical field.
Interested businesses should keep in mind that there are some downsides to pharmaceutical contract manufacturing. Though most contract manufacturers producing drugs for U.S. markets have to submit to quality control by the Food and Drug Administration (FDA) and maintain high standards to ensure good relationships with their clients, their clients have little to no oversight with regard to the goods produced. This and other issues related to the distance between manufacturer and the eventual seller don't allow the client to have much control. Therefore, it is important that a company know about the manufacturer before entering into a long term contract.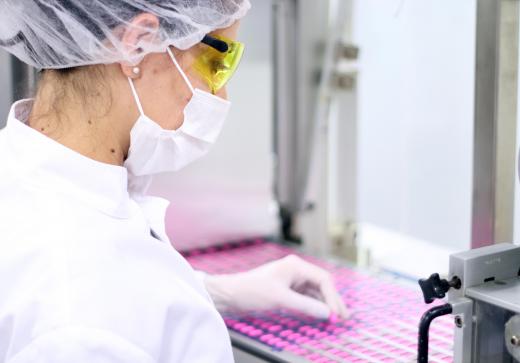 Another problem involving pharmaceutical contract manufacturing that is becoming a bigger worry to businesses is that security measures that protect the patents owned by pharmaceutical companies may not be as strict at a contract manufacturer. Since most pharmaceutical contract manufacturers produce for many different clients, they hold valuable information on their computers that involves many companies. Due to this they may be a bigger target for hackers and a company has to trust that their information is being handled in a safe way.
Most contract manufacturers are aware of these risks and take strong measures to ensure the safety and quality of services they provide to their clients. Maintaining good relationships with clients is crucial to the success of these manufacturers. For this reason, contract manufacturers generally take steps to ensure that their clients have enough information about the manufacturing process that they feel comfortable and secure.
AS FEATURED ON:
AS FEATURED ON:







By: ivanko80

Contract manufacturing of pharmaceuticals saves companies money by reducing their overhead costs.

By: Gennadiy Poznyakov

Most pharmaceutical contract manufacturers produce drugs for multiple clients.

By: RGtimeline

Pharmaceutical companies may be interested in contracting manufacturing companies if they do not have the facilities to package drugs themselves.

By: Creativa

Some pharmaceutical companies develop the drugs in a lab, but outsource the manufacturing process.