What is Panel Construction?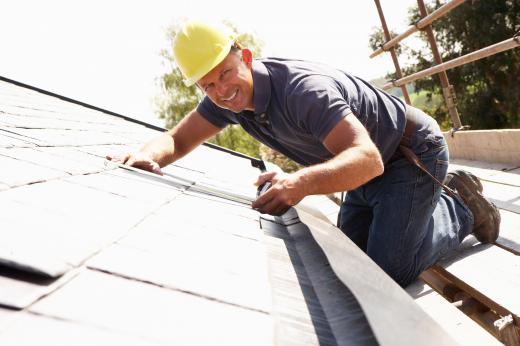 In the opinion of many, the future of the residential construction industry is panel construction. Structurally insulated panels, or SIPs, are an energy-efficient, fully-integrated method of residential construction that combines framing, siding, and sheathing, as well as drywall and insulating procedures into a more compact operation. The relative benefits of panel construction are, unfortunately, somewhat mitigated by occasionally high initial construction costs, as well as by the unfamiliarity of many contractors, architects, and builders with the particulars of this recently-introduced building method. Also, there seems to be a lag in the adoption of this construction process by various municipal building codes.
The panels used in panel construction can be either be factory-manufactured to specifications and simply erected on site, or they can re-configured at the construction site, or directly manufactured, using the proper materials and procedures, right at the site, allowing some versatility in the erection of the structure. Their manufacture is relatively simple, consisting essentially of a layer of insulating material, usually urethane foam, or expanded polystyrene, sandwiched between a "skin" of rigid material, commonly wood or oriented strand board (OSB) for the exterior side, and sheet-rock or paneling for the interior side. Thus framing, insulating, and drywall installation is accomplished in, essentially, one step.
Panel construction is most often accomplished in sections, where large, pre-cut sections of structurally insulated panels are fitted together and attached with nails and adhesive, eliminating the need for framing studs. The strength of the wall panels is sufficient to support the roof panels without the need for ceiling joists and space-consuming cross members. Additionally, structural insulated panel construction provides better insulating properties, along with faster construction time. The materials used in manufacturing SIPs, are, for the most part, eco-friendly, and the panels themselves are quite recyclable.
SIPs are especially useful for roofing, where large, pre-formed, insulated panels can simply be laid in place atop the wall sills, and secured in a matter of moments. Roofing panels may be weatherized before placement and the joints between panels sealed, or, more commonly, roof panels can be shingled, tiled, or beautified after they've been installed. Roofing panel construction is significantly more energy efficient than either fiberglass or blown-in insulation material.
The savings in energy costs when using SIPs more than offsets the initial construction material costs. Additionally, lower labor costs contribute further to the overall cost-effectiveness of panel construction. Panels are available for walls, roofs, roofing insulation, subfloors, and customized building applications. A few other benefits of panel construction include fire-retardant properties, frame strength, and controlled ventilation. Finally, a building constructed with SIPs will seal against outside noise as effectively as it seals off air and moisture intrusion.


By: Monkey Business

Roofing panel construction is significantly more energy efficient than either fiberglass or blown-in insulation material.