What is Medical Contract Manufacturing?
Medical contract manufacturing is a highly specialized industry that focuses on designing, prototyping, constructing, and packaging devices in controlled and sterile environments. Businesses that perform medical contract manufacturing can often create any type of device or component for use in the medical industry. They are also typically well versed in all applicable laws, regulations, and standards. In many cases, the businesses or their manufacturing facilities will have government or international certifications that verify the integrity of their processes.
All contract manufacturers offer some type of outsourcing service that can allow a business to have components or devices built to specification. This process typically consists of a business going to the contract manufacturer with a design, concept, or formula. The contract manufacturer can then provide a quote for how much the entire process will cost. Medical contract manufacturing is one example of this practice that is specifically used to create items that will be used in health care and related fields.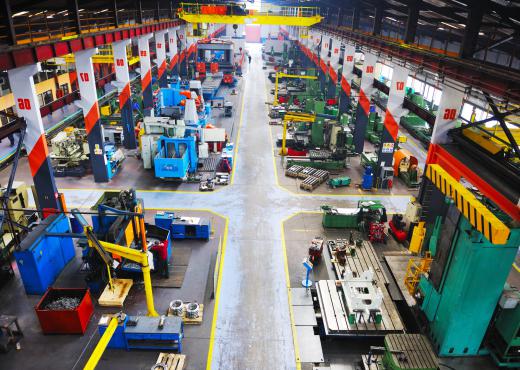 If a business has designs for a medical device but lacks the facilities or knowledge to manufacture the items, they will typically retain the services of a medical contract manufacturing company. The entire production phase can be outsourced in this manner, including sterile packaging that conforms to applicable regulations and testing. In other cases, a business may have a concept but lack the means to design or prototype it. Medical contract manufacturing companies can often assist with this phase as well, and then carry it through production if the prototyped device is acceptable.
A business that provides medical contract manufacturing may specialize in small, sterile single use items, large equipment, or anything in between. Facilities are typically tightly controlled and often include certified clean rooms to construct and package sterilized items. In many cases, the facility or the clean rooms may be certified by government or international organizations. These certifications can help ensure that the manufacturing processes conform to tight specifications and that all proper sterilization methods are employed.
Medical contract manufacturing can make use of a variety of sterilization methods. Depending on the situation and the requests of the client, gamma rays, electronic beam processing, ethylene oxide gas, and other methods may be used to sterilize both the manufactured goods and the work environment. Workers typically wear sterilized gowns, hairnets, and other gear to ensure that the medical equipment they manufacture remains sterile as well. Sterile garments and gowning rooms are often provided so that the workers do not bring any outside contaminants into the facility.
AS FEATURED ON:
AS FEATURED ON:







By: .shock

Medical contract manufacturing produces specific medical supplies and devices, such as surgical implants and custom designed medical devices.

By: Sherry Young

Medical equipment must remain sterile at all times.

By: lianxun zhang

The production of many medical devices is contracted out to manufacturing facilities.