Macadam is a variety of road covering invented in the 19th century. The inventor, John Loudon McAdam, pioneered his technique as a replacement for dirt roads. Even though this type of road is rarely used in modern times, its influence is still seen in some forms of road construction.
John McAdam was born in Scotland in 1756, and grew up to working in English road construction efforts around the city of Bristol. After several decades of work, he published two treatises on the need for an improved road system using layered rocks. In 1816, as the surveyor on Bristol Turnpike, McAdam tested out his process for creating roads, called macadamizing.
The original system involved a triple layer of stone. The bottom two layers were comprised of hand-broken rocks laid to a depth of 8 in (20.3 cm) over a formation level called a subgrade. The top layer was much smaller rocks, made to be no more than 2 in (5 cm) thick. The entire road was then compacted and crushed together by use of an enormous roller. In addition, macadamized roads had a slightly convex shape, so that water would run off into drains on either side, rather than collecting on the road.
The paving process became popular throughout the world, particularly in the quickly expanding American Northeast. The first American macadamized road was a remade 10-mile (16-km) section of unpaved road that connected the Maryland towns of Boonsboro and Hagerstown. The Boonsboro Turnpike was completed in 1823, using McAdam's specific directions. In 1830, work was completed on the 73-mile (117.5-km) National Road, which remains one of the only roads in America to still contain macadam sections.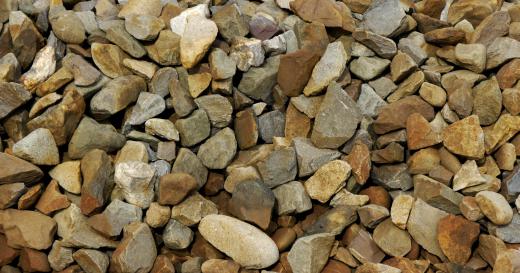 These roads were initially created for use with carriages and horse-powered travel. With the advent of automobiles, the process underwent a variety of changes to meet new challenges posed by the vehicles. Dust thrown up by automobile wheels became a serious problem for travelers, leading to the invention of tar-bound macadam or tarmac. The new process used a layer of tar on the subgrade and bound the rock layers together during rolling with sand and tar. Many early airports used tarmac pavement around the terminals, leading to the modern usage of the term for the disembarking area around a plane.
Advances in road construction lead to the gradual phase-out of macadam in industrialized nations. Replacements, such as concrete and asphalt, became popular as technology and synthesized materials became available to aid production. In America, the passage of the 1956 Federal Highways act lead to the modernization of most of the country's major roads, mostly eliminating macadamized constructions. Some developing nations still use the process, and a few remaining areas of such road are protected as historical sites in some American towns.
What Is Asphalt vs Macadam?
Even though road crews no longer use the process of macadam to make new roads, they may still use the older term to refer to the method of constructing roads. However, while some people may use macadam interchangeably with asphalt, the two techniques are different.
Macadam
People made macadam roads out of multiple layers of rocks, starting with large stones on the bottom and smaller rocks on the surface. The invention of cars leads to adding a layer of tar to the road's surface to fill in gaps and hold the pieces together to make it easier for vehicles to ride on.
Asphalt
On the other hand, asphalt is the term many Americans use for the material used to make modern roads. Crews make pavement from a mixture of small rocks, sand and a heated petroleum byproduct called bitumen or asphalt. Workers lay this mixture over a smoothed surface of sand or gravel and press it with a steamroller. As the sticky mixture cools, it creates a smooth street.
Is Macadam the Same as Asphalt?
While these two road construction methods are slightly different, asphalt is the modern version of macadam. They are both a combination of rocks and a binding material used to create paved pathways for cars. Regardless of which method crews used, both made a significant impact on transportation and commerce at the time of their development.
When Did Road Crews Begin Using Asphalt Instead of Macadam?
The first road paved with asphalt was in Newark, NJ, in 1870, followed by Pennsylvania Avenue in Washington D.C. Edward de Smedt filed a patent for the technology the following year. By 1901, the first asphalt facility opened in Massachusetts. Within a few years, almost all bitumen came from petroleum byproducts instead of naturally derived sources due to the demand for the product.
The asphalt industry made significant advancements when the United States passed the Interstate Highway Act in 1956. The country invested over 50 billion dollars into improving technology for roads. Larger equipment made it possible to pave two lanes at once, and new machinery made it faster to compact and level the asphalt.
Why Is Asphalt Called Macadam If They Are Different?
Sometimes, people refer to asphalt as macadam. This goes back to the original name for paving roads, but people use the two terms interchangeably when discussing modern road material. Another common nickname is blacktop or pavement. Construction crews make most modern roads using the same material regardless of whether it's called macadam or asphalt.
What Are the Benefits of Using Asphalt?
Asphalt is the go-to material for pavement worldwide, and the composition of the material has remained nearly unchanged for decades. This reliable product has many advantages.
Asphalt is an inexpensive material for laying roads compared to macadam or concrete.
Road crews can recycle asphalt.
Laying asphalt takes less energy to warm the material when compared to other products. 
It's easy to find companies that specialize in working with asphalt. 
Asphalt is reliable for many different uses, including airport runways, parking lots, driveways and racetracks.
Workers can quickly fill and repair holes and cracks without overhauling an entire stretch of road. 
Are There Any Cons To Using Asphalt?
While this product has many important uses and remains a top choice for road materials, it does have some weaknesses.
It Requires Routine Maintenace – Cleaning the surface of the blacktop should happen at least twice a year. In most cities, street sweepers and maintenance personnel keep the roads maintained. However, areas of private property may not do as good of a job at cleaning the material, which may cause it to break down faster. 
It's Prone To Damage – Laying asphalt requires the right mixture of ingredients and temperature. If crews don't lay the material correctly, it can break down. The edges of roads may crumble, and the center may crack and develop potholes. 
How Is Asphalt Recycled?
During the 1970s energy crisis, engineers wanted to conserve petroleum products, so they developed a way to recycle asphalt. To do this, road crews remove the top layer of the road by smashing it into large chunks. Construction crews bring these pieces to a recycling facility, where it's ground back into smaller pieces and mixed with asphalt. Workers can then use the material for roads again.
Another process for recycling asphalt doesn't require removing chunks of road. Instead, crews pulverize the top level and mix it into the sublayers of the road. This establishes a new subbase for a new top layer of pavement. This process saves both money and natural resources.
AS FEATURED ON:
AS FEATURED ON:







Macadam was a variety of roads constructed in the 19th century using three layers of stone with gravel packed on top.

Macadam roads are rarely used in modern construction but can still be found in the countryside, in developing nations, and in historically-protected areas.

By: alpssimon

Macadam roads are made up of crushed rocks.