What is Intensive Agriculture?
Intensive agriculture or intensive farming is an approach to farming in which the goal is to get a yield that is as high as possible. While all farming theoretically focuses on getting a high yield, this approach uses techniques that are geared towards maximizing things like the amount of crops that can be grown on land, the number of growing cycles per year, and so forth. This method is sometimes confused with commercial agriculture; in fact, commercial agriculture is one form, but it is far from the only approach to farming intensively.
Evidence of intensive agricultural practices can be found in cultures which date back thousands of years. In the Mediterranean, for example, early cultures farmed several species of shellfish, creating a concentrated population in a small area and using it as a source of food and textile dyes. In Southeast Asia, paddy farming is also an ancient practice. Terracing, in which unusable land is made usable with the construction of terraces, can also be seen in parts of Asia and South America.
Other sustainable intensive agriculture techniques include practices such as intercropping, in which multiple crops are grown in the same field, and biointensive agriculture. On a smaller scale, French intensive gardening is used by some people to increase yields from home gardens by expanding the amount of farmable soil available. All of these methods can work with the environment to increase yields in a way which can be maintained for an extended period of time, thousands of years in some cases.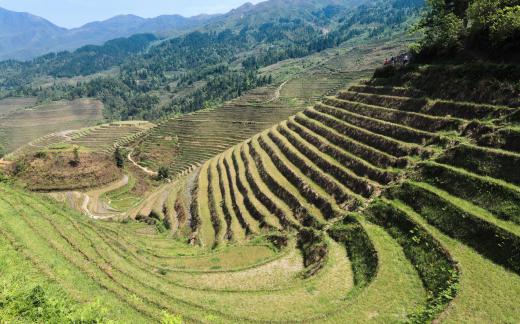 In commercial agriculture, intensive farming practices include packing crops or animals as tightly as possible onto lots, along with the use of chemicals that are designed to stimulate rapid growth, increase size, reduce disease, and manage agricultural pests such as insects, fungi, and animals. This system also relies heavily on mechanization, with large areas of land being worked by machine.
Commercial agriculture is a problematic form of intensive agriculture because it cannot be sustained. The practices tend to deplete the soil of nutrients, can contribute to topsoil loss, generate nutrient pollution, and cause other problems. The methods involved are so inexpensive, however, that companies are willing to run the risk of these problems to provide cheap food and products such as plant-based textiles. Consumer demand dictates prices for agricultural commodities, and many consumers expect prices so low that the only way to realistically meet them is through industrialized agricultural practices.
AS FEATURED ON:
AS FEATURED ON:







By: Lucky Dragon

Intercropping, or planting two or more crops in one field, is a form of intensive agriculture.

By: chungking

Terracing is another intensive agriculture practice to maximize the crop-to-land ratio.

By: onepony

Some farmers aim for the highest yield possible.

By: natara

In most developing countries, rice is harvested manually.

By: stevenjfrancis

In Southest Asia, paddy farming is considered to be an ancient practice.