Gypsum is the more common name for a mineral compound called calcium sulphate dihydroxide, or sulphate of lime. It is generally found underground near deposits of limestone or other minerals formed by evaporation. One of the most common forms of raw gypsum is a pure white crystal called alabaster. Another unprocessed type forms in desert terrain and its crystals resemble the petals of a flower. For this reason, many people refer to this form of calcium sulphate as the "desert rose."
Because the calcium and sulfur molecules in gypsum are chemically bound to water, this material is routinely heated in order to remove 50% to 75% of its original moisture. The resulting powder is called burnt gypsum, although its white or translucent color does not change. This dehydrated form is valued for its ability to solidify almost immediately after water is added to it. It is marketed as the molding agent Plaster of Paris, and is used to make ordinary schoolroom chalk.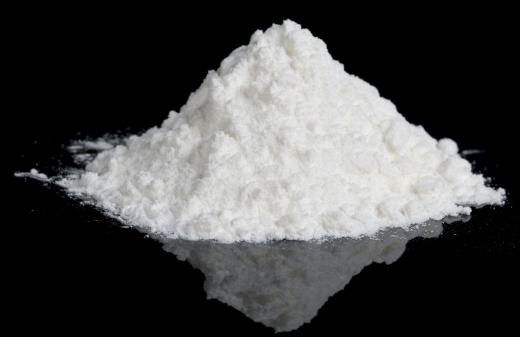 Another common use for gypsum is the formation of drywall panels. During home construction, these panels are nailed into place to form a finished wall. Gypsum is naturally resistant to fire and heat, which helps it form a barrier between combustible wooden frames and the room itself. These drywall boards can also be cut to size without elaborate tools, making an ideal building material.
Gypsum is also used to strengthen soil weakened by too much clay. Gardeners routinely amend weak soil by adding a layer of this material, which does not change the soil's acidity levels. Gypsum-enriched soil can also be used as an alternative to adobe mud, which tends to disintegrate after years of exposure to rainwater.
Because of its hardening properties, gypsum is a popular ingredient in cement mixtures. It is also used as a mild abrasive in some toothpastes, since it is considered a non-toxic substance. On Moh's scale of mineral hardness, the compound is considered a 2, harder than talc but softer than limestone.
AS FEATURED ON:
AS FEATURED ON:







By: Kondor83

Powdered gypsum is typically used to make plaster.

By: yellowj

A drywall installer applies a finish coating to a gypsum wall.

By: sklyarova

Ordinary schoolroom chalk is made from gypsum.

By: Jenny Thompson

The White Cliffs of Dover are made of limestone, which is often found above gypsum deposits.