What is Friable Asbestos?
Friable asbestos is a term used to describe any asbestos-containing material that when dry, can be easily crumbled or pulverized to powder by hand. Material that contains more than just 1% asbestos and is friable is considered to be Regulated Asbestos-Containing Material (RACM).
Some common examples of friable asbestos are acoustic ceilings and tiles, many types of plasters, wallboard, joint compound or "mud" and thermal insulation for water heaters and pipes. Although use of asbestos in these products was banned by 1978 those already in the marketplace remained on the shelves and were used in construction for many years after. They are still commonly found in homes today.
Non-friable asbestos-containing material (ACM) is not regulated because it contains a binder or hardening agent such as cement, asphalt or vinyl. Examples of ACM are asphalt roofing shingles, vinyl asbestos floor tiles and transite siding made with cement. ACM products are still being manufactured today. The danger with this type of material is that it can pose the same hazard as friable asbestos during remodeling, repairs or other construction. Burning ACM also creates friable asbestos.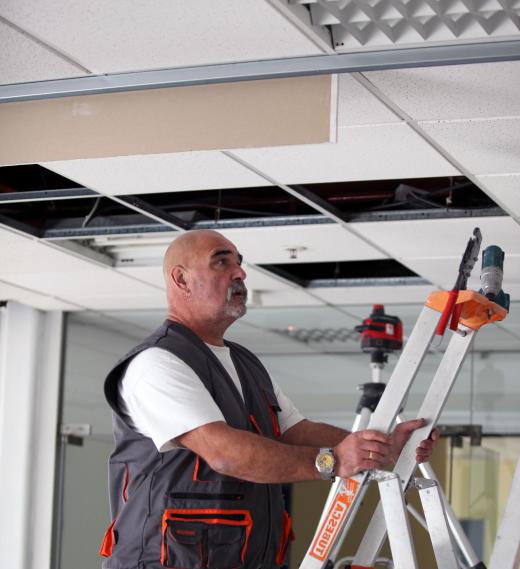 When asbestos is crushed it disperses a dusting of microscopic fibers in the air that can remain for very long periods of time. These fibers can be unknowingly inhaled and permanently lodged in lung and other body tissues, yet symptoms might not appear for 20 years or more. Inhaling the fibers has been linked to cancer and asbestosis, a chronic lung disease similar in symptoms to emphysema. Unfortunately there is no known safe level of exposure, which is why asbestos remains a concern today.
If you suspect your home might contain friable asbestos or ACM you can consult a licensed asbestos expert to conduct a survey of your home and take samples for analysis. If asbestos is found but your home is in good shape, the Air Pollution Control District (APCD) recommends leaving it while being cognizant of avoiding damage that might cause release of fibers. If you want to remodel or perform other repairs, then a licensed asbestos contractor should be hired to remove the material legally and safely. Unfortunately this is rather costly due to the hazard involved and the care that must be taken to do it properly. Materials must be wet to eliminate fiber release, and anti-dust emission controls like large specialty vacuums are used. The removed material is treated as hazardous waste, must be double-bagged and disposed of properly.
Sweeping, dusting, or using a household vacuum will only make fibers airborne. They will pass through household filters and are not visible to the naked eye.
If a home or building is being demolished for any reason, the law requires a licensed asbestos contractor remove all ACM and friable asbestos prior to demolition.
Asbestos, is a term that covers many types of naturally-occurring fibrous materials that are long-lasting, lightweight and fire-resistant, making them a popular choice for construction until the dangers were discovered in the 1970s.


By: Greg Pickens

Wallboard is a common type of friable asbestos.

By: Vely

Asbestos must be removed before a building's demolition.

By: auremar

One common type of friable asbestos is acoustic ceilings.

By: kmiragaya

Inhaling asbestos dust can cause respiratory illness.

By: kostrez

Wearing a respirator mask is crucial for workers involved in asbestos removal to prevent inhaling dust.