Flat glass is a type of glass usually produced for windows and other types of applications where flat glass may be required, such as for glass tables and doors. It is also called sheet glass and plate glass. The glass is one of the most common types of glass in use today.
Flat glass is made at many factories around the world in approximately the same way. The main ingredient in flat glass is sand, as many may be aware. However, getting that sand to made into flat glass is a complicated process that takes time, skill and special equipment.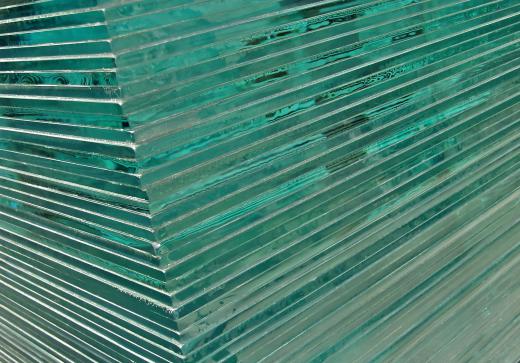 When flat glass is ready to be made, sand is mixed with other materials and put into a large furnace capable of producing very hot temperatures. This melts the sand and other materials in a matter of minutes, turning them into a liquid. This liquid then forms the basis of what will become a solid sheet of glass.
Once outside the furnace, the liquid glass is then made a desired thickness by other machines which spread out the glass. It is moved by being placed on liquid tin. When cooled, the glass hardens but remains on the liquid tin. The tin remains a liquid because its hardening point is lower than that of glass.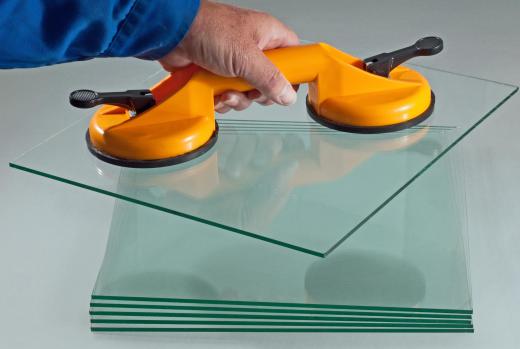 However, at this point, there is still one long sheet of glass that is not practical for most uses. Cutting the glass is accomplished by scoring it with a tool that does not cut all the way through, but weakens the glass along a determined line. As the glass further goes along the conveyor, it reaches an elevated point that puts a stress on the score line and breaks the flat glass into individual pieces.
Once the glass is cut, it is ready for inspection, which takes place in order to determine if there are any defects on the edge or surface of the glass. If there is, the glass is recycled and used again, going through much the same process as it did originally. If no defects are found, it then goes to a staging area where it will be packaged and shipped, usually through a process that is entirely automated.
In some cases, flat glass will need to be manually cut in order to meet the customer's specifications. This may be done at the primary facility or a secondary facility after delivery from the main manufacturer. Once the correct sized is obtained, it can then be placed in a frame, such as a window or door frame, or perhaps even a frame for a table, television or many other types of uses.
AS FEATURED ON:
AS FEATURED ON:







By: laurent dambies

Sheets of glass.

By: Bruno T

Handling flat glass may require specialized tools and professional experience.

By: dbrus

Flat glass, also referred to as plate glass, may be used to make windows.