What is Ethanol Biodiesel?
Ethanol biodiesel, also known as ethyl-esters biodiesel, is a form of biodiesel which is produced with the use of ethanol. This product can be used to run a vehicle which is equipped to handle biodiesel or diesel fuels. Biofuels such as biodiesel are very popular in many regions of the world because they are renewable and when they are manufactured properly and run in well-maintained vehicles, they produce fewer emissions than fossil fuels.
It is important to distinguish between ethanol fuel and ethanol biodiesel, which are two different types of alternative fuel. In addition to being used in the production of biodiesel, ethanol can also be used as a standalone fuel. Ethanol combusts very efficiently, and is sometimes mixed with regular fuel to decrease emissions or used in high concentrations to run specialized engines. When ethanol is utilized to make ethanol biodiesel, it is reacted with oil in a process called transesterification to produce biodiesel, a fuel which is derived from vegetable and plant oils.
Ethanol and the oils used in biodiesel production are made from existing biomass such as grains and organic material. Ethanol biodiesel is considered entirely renewable because it is easy to grow biomass to replace the materials used in production, and some biomass can be utilized extremely efficiently, maximizing returns for biofuel producers. However, some critics have brought up the so-called "food versus fuel debate," arguing that dedicating land to the production of biomass for making fuels could result in food shortages and rising food prices.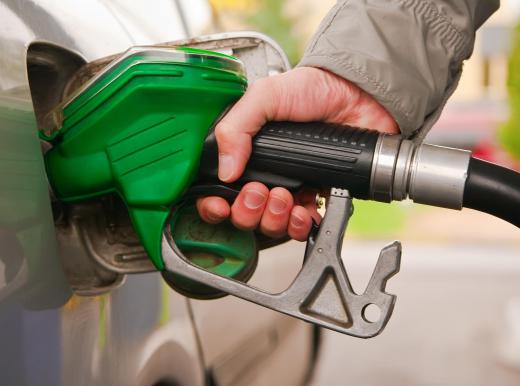 More commonly, methanol is used to produce biodiesel, but ethanol biodiesel can be produced both commercially and at home. It is a bit trickier to make biodiesel with ethanol, and people usually practice with methanol biodiesel so that they get used to the process before they proceed to making ethanol biodiesel. Several companies have manufactured equipment which is specifically designed to produce ethanol biodiesel, making the process easier for people who want to make fuel at home.
Interest in alternative fuels began to spike radically in the early 21st century as people grew concerned about renewable fuels, emissions as a result of increasing fuel usage, and the political implications of certain types of fuel. Ethanol and biodiesel have historically been pitched against each other as two alternative options in the alternative fuel debate, and ethanol biodiesel is unlikely to catch on in a major way because methanol is cheaper to produce and methanol biodiesel is easier to make.
AS FEATURED ON:
AS FEATURED ON:







By: Szasz-Fabian Erika

Ethanol biodiesel.

By: Anna Lurye

Ethanol biodiesel fuel may be used in diesel vehicles.

By: Nico Armbrust

Methanol can be used to make biodiesel.