Drilling mud, also known as drilling fluid, is a product used in the process of drilling deep boreholes. These holes may be drilled for oil and gas extraction, core sampling, and a wide variety of other reasons. The mud can be an integral part of the drilling process, serving a number of functions.
One of the most critical roles of this mud is as a lubricant. Drilling generates tremendous friction, which can damage the drill or the formation being drilled. Drilling mud cuts down on the friction, lowering the heat of drilling and reducing the risk of friction-related complications. The mud also acts as a carrier for the materials being drilled, with material becoming suspended in the mud and then being carried up the drill to the surface.
Using this substance protects the stability of a borehole by controlling variables such as friction and pressure. Different muds are needed for different circumstances, and the selection and formulation of mud is managed by a mud engineer. This engineer determines the correct viscosity level for the mud, and adjusts factors such as its density as well. Water, oil, and gas-based muds can all be used, with products ranging from true mud made with materials like bentonite clays to synthetic drilling fluid.
Drilling mud is recirculated throughout the drilling process. As it rises to the surface, it passes through screens that trap the materials from the borehole, before being cycled back into the system that delivers mud to the head of the drill bit. This recirculation process is designed to cut down on waste by reusing as much mud as possible. Depending on the materials being drilled, several screens may be needed to trap the materials, and sometimes the materials themselves are also coated in mud, which means that they will need to be cleaned even after filtration.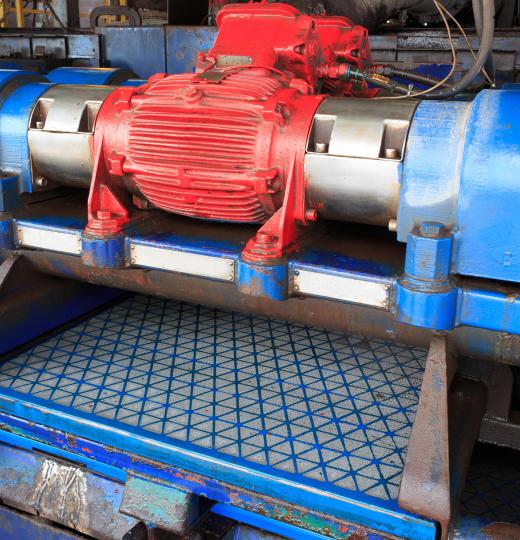 Some environmental problems have been associated with drilling mud. Historically, contaminated and dirty mud was dumped in open pits, allowing the natural environment to become polluted. Additionally, very aggressive chemicals are sometimes used to clean materials brought up when filtration was not sufficient. These chemicals can pollute the environment as well, generating a variety of environmental problems. Many companies that conduct drilling retain a compliance engineer who is responsible for monitoring the environmental impact of drilling activities, with the engineer ensuring that the company conforms with the law and its own internal environmental standards.
AS FEATURED ON:
AS FEATURED ON:







By: carlosseller

A compliance engineer may monitor how drilling activities affect the environment.

By: lightmoon

Drilling mud is used to lubricate the drill.

By: bomboman

Drilling mud must be cleaned and purified using special machines such as a shale shaker before it can be recirculated.

By: Ded Pixto

A drilling engineer oversees all aspects of a drilling project.