Density logging generates information about the density of materials inside a wellbore, a hole drilled to extract or explore natural resources such as water, gas or oil. This information is important for exploratory drilling and research applications, where geologists want to know more about what is under the surface of the earth and how it is behaving. Logging typically includes a variety of equipment to collect as much information as possible. The density logging equipment is only one among several options available for collecting data.
This equipment consists of a shielded device which can be lowered into the wellbore. An emission source of gamma rays is located at the bottom of the device, allowing the rays to travel through the rock and fluids inside the well. As they move, their behaviors change. The more dense the minerals and fluid, the fewer gamma rays manage to travel up to a set of paired detectors. These are located at slightly different distances to provide more data and context.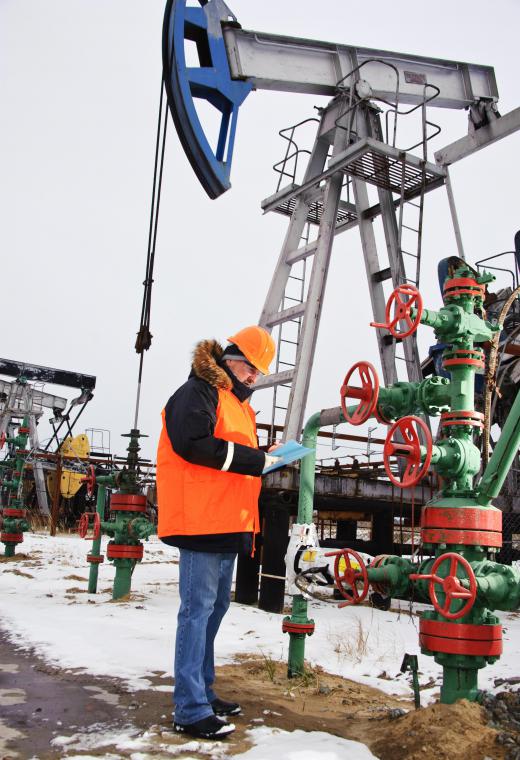 Information from density logging provides data about the overall density of the materials and can also offer insight into the mineralogy of the wellbore. If a technician knows what kind of rock is present, this information can be used to determine the matrix density, the value for the rock inside. With these data in hand, technicians can calculate the porosity, a reflection of the density of the liquid inside the well. All of this information may be important for tasks like deciding how to proceed with drilling, determining if a given region will yield useful materials, and compiling a geologic profile.
Computers can be used to record density logging data and automatically perform calculations. Technicians exercise some care in collecting and processing this information because errors can develop. Problems with the size and shape of the wellbore, for example, may throw off the data, as can incorrect units of measurement. It is also important to confirm the probe was placed accurately, and to check for any issues that might have caused incorrect data. to be recorded
Along with other data from logging equipment, density information can be reviewed by a geologist, engineer, or other experienced technician. Density logging provides important information about the profile of the well which can be used to generate reports for other technicians as well as decision makers at an organization. In exploratory drilling, for example, engineers want to determine whether a well will yield enough material to be profitable, and what kind of equipment they will need to install in order to safely extract valuable substances.
AS FEATURED ON:
AS FEATURED ON:







By: Ded Pixto

Density logging generates information about the density of materials inside a wellbore, a hole drilled to extract oil or gas.