Daylighting is a design strategy that involves making the best possible use of natural sunlight in the home or office environment. The idea behind daylighting is to decrease the dependency on electricity and other energy sources to produce the lighting needed for tasks in the workplace as well as around the house. It is not unusual for several different methods to be utilized in order to utilize the available natural light in the most efficient manner.
When designing a new building, daylighting strategies are one way of helping the home or workspace take on a green approach and thus help in the process of energy conservation. Windows are one of the most common design elements that help make daylighting possible. The prudent placement of each window to allow daylight into the space in both the mornings and the afternoons helps to minimize the amount of energy that must be expended to provide lighting for work spaces such as a desk area, cubicle, or even a kitchen counter. In terms of cost, windows are probable one of the most affordable of all daylighting resources.
Along with windows, the installation of a skylight can also provide easy access to natural sunlight. When properly placed on a sloped roofline, one or more skylights can maximize the amount of light entering the building. Depending on the placement, a skylight can make it possible to keep working even if the day is somewhat cloudy. For flat roofs, the inclusion of a sky window produces the same effect as the skylight on a sloped roof.
Other devices also help with the process of daylighting. For example, the inclusion of a reflective surface such as a mirror in the overall room design of the space increases the lighting effect obtained from windows or skylights. When placed in the proper location, the sunlight is reflected by the mirror to other areas of the space that receive less benefit from the structural elements that allow sunlight into the room.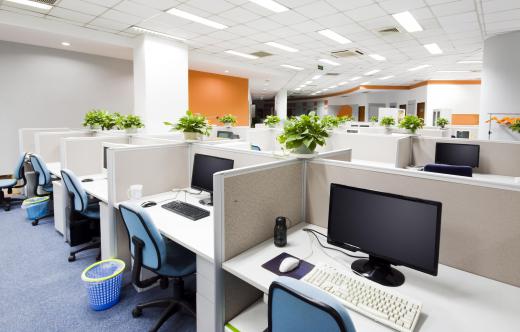 In addition to cutting overall energy costs, daylighting is also considered a means of enhancing morale in the workplace. By allowing employees to enjoy exposure to natural light, there is evidence that productivity increases while the potential for negative interaction between employees appears to decrease. From this perspective, it is possible that taking steps to daylight an existing workspace could easily pay for itself in terms of increased productivity and lower power bills in as little as one calendar year.
AS FEATURED ON:
AS FEATURED ON:







By: contrastwerkstatt

The installation of skylights may provide access to natural sunlight.

By: Pakhnyushchyy

A strategically placed skylight can provide ample daylight to work by even when clouds block the sunlight.

By: 06photo

Skylights can be used to bring brightness to work areas like cubicles where providing each individual work space with enough lighting may be extremely challenging.