What Is Crop Production Management?
Crop production management refers to the various processes applied toward the effective cultivation and harvesting of crops. Such a management system usually includes considerations regarding the selection of the crop to plant, the preparation of the land where the crop will be planted, the application of fertilizers and pesticides, and other practices aimed at improving crop yields like irrigation. These practices may be vary slightly depending on the type of crop under consideration due to the fact that different types of crops grow at different rates and are subject to different growing conditions and attacks by insects and diseases.
One of the first considerations in crop production management is of the determination of the type of crop to be planted in the designated land. The reason why this is important is because different crops require specific growing conditions, meaning that crops that do well in certain types of soil will not prosper when they are cultivated in other types of soil. Also, the climate plays an important role in the growth of crops, dictating the type of crops that can be successfully cultivated in different geographical areas. After the crop has been selected and the land has been prepared by tilling, the crop will be planted according to the specifications for planting such a crop, including the observation of the proper spacing between individual plants.
In order for crops to grow very well, it may be necessary to apply some form of fertilizer as a nutrient boost. This aspect of crop production management is also one that requires a careful analysis of the type of crop in relation to the kind of fertilizer that may be applied to that particular crop. The reason for this is because there are specific fertilizers for different crops, and there are specific types that may be used at various stages of plant growth. Apart from the application of fertilizers, pest management must be included in crop production management. This will require the application of pesticides that target the particular pest for that particular crop.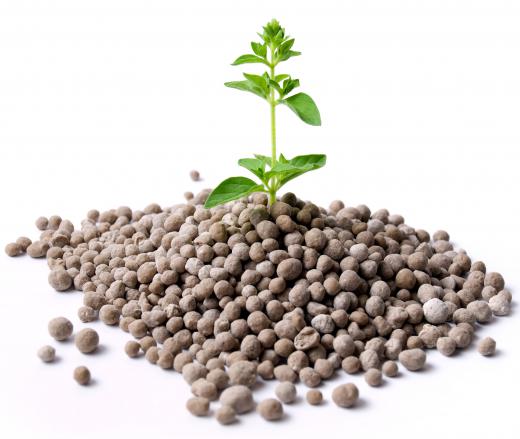 Effective crop production management also requires the constant removal of weeds from the land since they tend to proliferate very fast and compete with legitimate crop. Other considerations include the practice of irrigation as a means of providing moisture when this is an issue. The proper harvesting of such a crop and the storage of the same will also be a part of crop management.
AS FEATURED ON:
AS FEATURED ON:







By: Dusan Kostic

Crop production management can apply to the effective harvesting of crops such as corn.

By: Sinisa Botas

Careful fertilizer use is part of crop production management.

By: Dusan Kostic

Knowledgeable crop management is evident at harvest time.

By: il-fede

Pesticides can protect crops from bug infestation.

By: Johan Larson

Crops that do well in one type of soil may not prosper when planted in other soil types.