Cardboard is a broadly applied term that is usually used to identify any type of multi-layered paper product. The construction usually involves using adhesives to bind several sheets of the paper product to one another, creating material that is relatively sturdy. Cardboard can be employed to create everything from simple boxes for storage to decorative items for use around the home.
When most people think of cardboard, they think of sheets of the corrugated kind used in shipping. The design of this type involves binding two or more flat sheets to a paper filler that features a corrugated or intestined design. The end result is board that is perfectly smooth on both sides, but also has additional strength due to the inclusion of the corrugated middle section. Shipping boxes and box inserts often make use of this type of hardy cardboard.
Simpler forms are used to create boxes that are ideal for use as gift boxes. These products usually are composed of only one or two sheets of thin cardboard. As a result, these serviceable boxes are not suited for shipping goods or for long-term storage. Often, these can be folded flat in order to make it easy to store them away in between uses.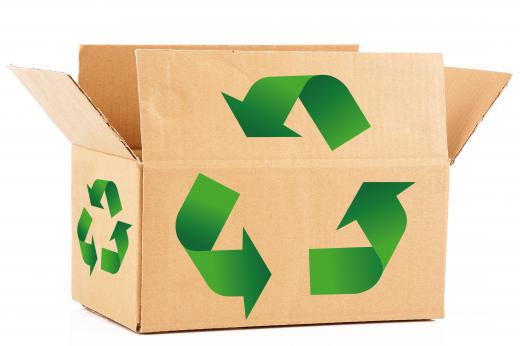 Cardboard can also be used to create decorative items for use in the home. Small boxes for use on desks and shelves are often made using a thicker combination of sheets than with gift boxes, but lacking the corrugated design of shipping boxes. Often, the decorative boxes carry intricate designs and a range of colors designed to give it an appearance of being metal or wood. Along with decorative boxes, the same approach can be used to create charger plates, decorative picture frames and even lightweight bookends.
Heavy paper can also be used to create mock pieces of furniture. Using corrugated or multi-layered cardboard, it is possible to fashion chairs, tables, beds and other furniture pieces for use in a model home. This approach is great for anyone selling a home that is empty, as it helps potential buyers have some idea of how they could use the rooms without requiring the home owner to leave behind cherished pieces or to rent furniture temporarily for use in open houses.
The uses of cardboard are many and varied. From packaging materials to gift wrapping needs to mock furniture, it offers a simple but useful solution for many different needs. Best of all, it can be constructed using recycled paper, making it much less of an environmental issue than many other modern materials.
AS FEATURED ON:
AS FEATURED ON:







By: Kayros Studio

An empty cardboard box.

By: Giuseppe Porzani

Cardboard can be made using recycled paper.

By: Steve Cukrov

Cardboard may be used for gift boxes.

By: ctvvelve

Cardboard cartons may be used for packaging materials for mailing.