What Is Bulk Material Handling?
Bulk material handling is a field comprising the development of systems to move, process, and package bulk materials like ores, grain, and so forth. It involves a variety of activities, from developing systems to transport bulk materials to designing safety protocols to reduce the risks of contamination during the handling process. Engineers play a major role in bulk material handling, working with companies at every step of a supply chain, from the source to the end destination, to develop streamlined and effective systems for managing bulk materials.
Such systems include heavy equipment, often movable and configurable, to move bulk materials around a site. Conveyor belts, hoppers, trucks, and similar equipment provides a means for getting bulk materials from the source to where they need to go. With grain, for example, this can include the development of rail cars to transport bulk grain, grain elevators to move grain into silos, and so forth.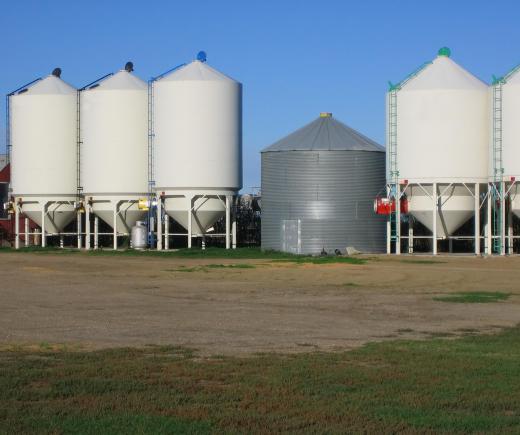 Some considerations with bulk materials handling include the composition of materials, how companies use them, and where they need to go. Many bulk goods need to go by truck, train, and boat at various points in their journey. Containerization makes it possible to streamline this process by moving materials in containers, rather than loading and unloading in bulk at each stop. Cranes to shift containers are necessary, along with equipment like conveyors for unloading at final destinations.
Engineers working on bulk material handling often have an interest in automation for efficiency and safety. The use of automated equipment can improve working conditions by keeping workers out of dangerous settings that have a high risk of injuries. It also increases efficiency, as it is often faster to use automated equipment than manual laborers to accomplish tasks like loading a cargo hold. Automation tends to shift the nature of employment in the field from a demand for manual workers to a need for technicians to supervise, maintain, and repair automated bulk material handling equipment.
Companies with a specialty in bulk material handling design equipment of a variety of sizes for different tasks. This can include everything from fermentation tanks at wineries to bulk storage holds for ships. One concern is the capacity for expansion; companies operate under the assumption that their loads are likely to increase with time, and they need systems that will grow with their needs. This can include designing configurable systems to accommodate changing uses.
AS FEATURED ON:
AS FEATURED ON:







By: Tootles

Transporting grain in and out of silos is an example of bulk material handling.

By: vetkit

Cranes can be used for bulk material handling.

By: Nickolay Khoroshkov

The storage hold of a ship can be used for bulk material handling.

By: Greg Pickens

Tanker trucks are used transport liquid or gas bulk materials.

By: Ivan Kruk

Many bulk goods are transported by train.