What Is an Overhead Power Line?
An overhead power line is a conductive line used for the transmission of power from a generating station to an end destination. This method of electric power distribution can be highly cost effective and efficient, allowing a utility to meet customer needs as cheaply as possible. Utilities are responsible for installation and servicing on overhead power lines, including service drops to customers. Before performing any work around lines that are the responsibility of the utility, it is advisable to call to check on any safety precautions, and to have the power terminated, if necessary.
Overhead power lines consist of conductive cables wrapped around steel cores. The metal may be treated to help it resist corrosion, but is often left uninsulated, because insulating the lines would add substantially to their costs. In regions where there are concerns about contact with the lines, as in heavily wooded locations where it is hard to keep trees cleared, the wires may be lightly wrapped, but they are not fully insulated.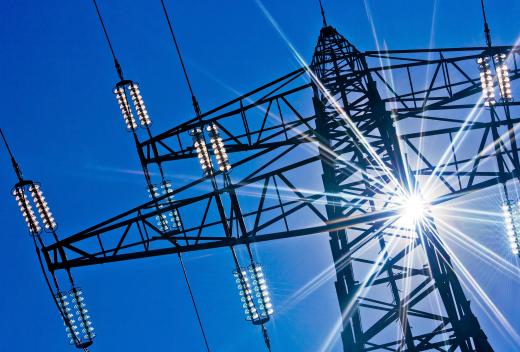 The overhead power line is suspended from a utility pole rated for the application, which may carry multiple power lines along with phone and other telecommunications cabling in some cases. At each power pole, insulators limit contact between the live lines and the pole. In cases where insulation is applied, overhead power lines can be attached directly to a pole with no insulators. The utility installs the wires high enough to avoid vehicles, residences, and so forth.
Utilities generally recommend that customers stay at least 10 feet (roughly 3 meters) away from an overhead power line. These conductors carry very high voltage and can be extremely dangerous, as electricity constantly seeks the path of least resistance to the ground. Something like a ladder, tent pole, or human body can make an excellent conductor, which may cause severe injuries or deaths at some voltages. If an overhead power line falls, it should be avoided until the utility can confirm that it is off, and people should report fallen trees and other hazards around downed or imperiled overhead lines.
Constant inspection and maintenance is required to keep an overhead power line in good working condition. Utility workers may need to periodically trim away trees and other hazards, and also check on the condition of utility poles to determine when they may need replacement. Utility customers should report anything unusual they notice around an overhead power line, including abnormal crackling or buzzing noises, flames, and so forth.
AS FEATURED ON:
AS FEATURED ON:







By: Gina Sanders

Overhead power lines distribute power.

By: Jim Parkin

Overhead power lines are subject to constant maintenance and inspection to ensure they remain in working order.

By: Greg Pickens

Any strange noises coming from power lines like buzzing or popping should only be investigated by a utility worker.