"Workshop" is a generic term that describes any building, room, or area dedicated to the small scale manufacture or repair of products or the pursuit of hobby and do-it-yourself (DIY) projects. By definition, a workshop should, ideally, provide enough space to install all the equipment required to correctly and safely carry out these activities. It should also provide enough light and ventilation to create a comfortable, pleasant, and safe working environment. A good workshop layout generally includes sufficient space for materials, tools, and consumables with particular attention paid to the correct storage of hazardous items. Commercial workshops should also provide adequate toilet and washroom facilities for the staff.
Workshops are generally understood to be modest facilities which lean more to the repair and small scale manufacturing of goods and equipment. These range from fairly sizable facilities serving formal businesses to the DIY enthusiast's garden shed or garage workbench. Most mirror their intended use in construction, layout, and the equipment they house. Workshops that service and repair vehicles or heavy machinery will, for example, typically feature large, overhead access doors, chain hoists or cranes, inspection pits, and hydraulic lifts. They also usually have high ceilings to accommodate bulky items and to provide adequate crane clearance.
Precision machining workshops tend to be smaller and feature a predominance of floor mounted machinery such as lathes, milling machines, and drill presses. An electronic repair workshop may be smaller still and have no more than a well lit workbench with tools such as bench multimeters, oscilloscopes, and soldering stations. Carpentry workshops are usually fairly roomy to accommodate long pieces of timber and also feature many floor mounted machines such as lathes, table saws, and planers. The workshop of the "weekend warrior" however, usually consists of a smaller and less formal setup, often occupying no more than a corner of a garage or garden shed.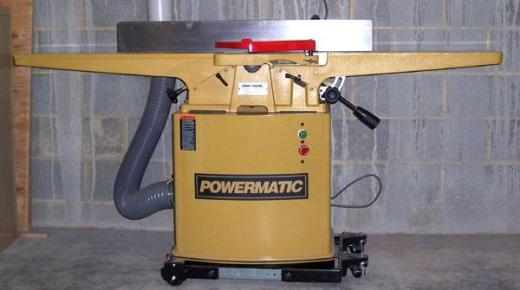 A comprehensive listing of all workshop types and ideal layouts or definitions for each would be epic by proportion but all share a set of common requirements though. A workshop should provide enough space to operate all tools and equipment safely and should include at least a basic first aid kit and fire extinguisher. Clutter causes accidents in a workshop so enough storage space for equipment and materials, particularly hazardous substances, is essential. Lighting is also crucial; bad visibility due to low light conditions not only strains the eyes of workers but has the potential to cause serious accidents. Ventilation, dust extraction, and noise suppression where high speed power tools are used are also essential features.
AS FEATURED ON:
AS FEATURED ON:







By: pavantt

A multimeter from a workshop.

A jointer in a carpenter's workshop.

By: Jonny McCullagh

Every good workshop contains a fire extinguisher and a first aid kid.

By: stokkete

Carpentry workshops are usually large enough to accommodate long pieces of timber.

By: motorlka

Electronic workshops often have oscilloscopes and soldering tools.