What is a Waste Management System?
A waste management system typically refers to a specific technique, strategy, or device used to treat waste materials. This may include the collection, transportation, recycling, disposal, or processing of waste. The use of waste management systems varies according to both the kinds of waste material to be treated and the aims of the treatment itself. In general, waste management systems attempt to curb waste for reasons such as public health threats, environmental concerns, or the general appearance of a location.
The term waste generally entails an unwanted or unusable material that is deliberately discarded by its users. Classifications of different types of waste include human waste, industrial waste, hazardous waste, or biodegradable waste. Specific definitions of waste have been written into law by organizations such as the United Nations (UN) and the European Union (EU), in order to effectively classify waste and minimize the environmental, social, or economic negatives that the neglect of waste management may cause.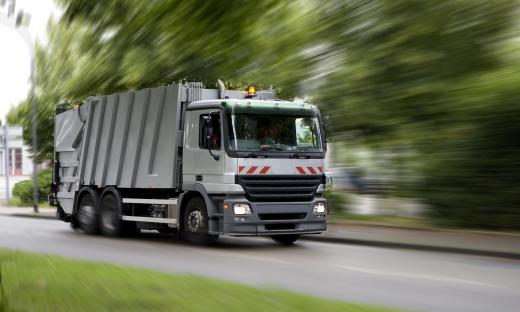 Waste management systems vary according to social, cultural, and technological norms. In industrialized countries, there typically are standard strategies for the treatment of waste. Waste management systems such as landfills attempt to bury waste underground or separate waste within the confines of an enclosed area. Incineration burns waste material using high temperatures, and can also be used to convert the combusted waste into usable energy sources.
Recycling is a common waste management strategy. It can be used for both environmental and social benefits. A recycling waste management system may be as simple as specifically marked bins intended for disposal of recyclable materials. These colored bins commonly are found in most Western countries.
A waste management system also can be conceived as a strategy for avoiding or reducing wastes. These types of systems are preventative and look to control the production of waste. Legal restrictions may limit the industrial production of waste by factories. The introduction into the public consciousness of ecologically beneficially behaviors in order to produce a greener world also is an example of a waste management system, such as the phrase, "reduce, reuse, recycle."
Hazardous waste requires its own specific waste management systems according to the potential public and environmental health dangers they may cause. These waste management systems are relative to the type of hazardous waste being treated. They incorporate concepts such as incinerators or recycling for clean up.
AS FEATURED ON:
AS FEATURED ON:







By: Goss Vitalij

Trash collection is part of a waste management system.

By: Moultipix

A waste management facility typically handles recycling.

By: Giuseppe Porzani

A waste management system refers to a specific technique, strategy or device used to treat waste materials.

By: Keith Frith

Medical waste is managed by incinerating or sterilizing the materials to kill bacteria.