A UV block is something which is capable of at least partially blocking energy in the ultraviolet area of the electromagnetic spectrum. The Sun is a notable source of UV radiation, producing a variety of wavelengths which are located within the UV range, and there are also sources such as specialized lamps which can produce light in this area of the spectrum. UV blocks are used for a wide variety of purposes.
Ultraviolet light can have some beneficial effects, and in fact some organisms have adapted to utilize it since it is abundantly available. However, it can also be harmful. It can cause damage to DNA, it can erode a wide variety of materials, it can cause pigments to fade, and it can simply cause a painful sunburn. For these reasons, people have developed UV blocks to use in settings where ultraviolet light is potentially dangerous or undesirable.
Blocks often take the form of coatings which can be applied to surfaces to provide protection. One example of such a coating is a film which can be applied to glass. These films are used on auto glass to protect components inside the car from UV damage, and in things like display windows, where prolonged exposure to sunlight causes fading over time. UV block paints are also available for coating products to provide this protection, including clear glazes which can be applied without distorting color.
A UV block can also be integrated into a product. Blocks can be mixed into plastics, used to impregnate fabrics, and so forth so that the product will be protected from UV radiation for life, with no concerns about a coating or film rubbing off over time. Products with integrated UV blocking tend to be more expensive because they are more costly to manufacture, although the tradeoff with a UV block is that the products will last longer than similar products which do not have UV protection.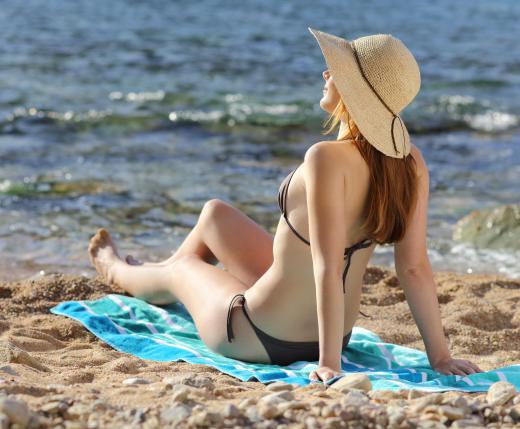 Shade screens are another form of UV block. In this case, something with UV resistance or something which will absorb the radiation is placed between a person or object and the Sun so that ultraviolet radiation will not cause damage. Such products are adjustable, allowing users to move them with the sun and to take them down if they are no longer needed. These products can be used to control sun exposure, as for example when someone wants to tan briefly and then cover up to prevent skin damage.
AS FEATURED ON:
AS FEATURED ON:







By: Eduard Stelmakh

Car windows contain UV block to protect occupants.

By: Mila Gligoric

A UV block can partially block energy in the ultraviolet area of the electromagnetic spectrum.

By: Antonioguillem

Excessive exposure to ultraviolet (UV) light can damage an individual's DNA.

By: lulu

Prolonged exposure to UVB rays may increase the risk of skin cancer.