A threading die is a tool bit designed to cut threads onto the outside surfaces of pipes or rods. These dies are typically hollow centered circular bits made of hardened tool steel with a series of raised cutting edges arranged around their inner surfaces. The cutting ridges are generally punctuated by several cut-outs which facilitate chip and shaving, i.e., swarf, removal. Threading dies may either be held securely for manual threading operations in a purpose made handle or in the chuck of a powered thread cutter. Thread cutting dies are always used with a special cutting compound that lubricates the die and helps remove swarf.
Threads cut onto the outside surfaces of pipes and solid rods are typically made manually or with a special power tool using a hardened tool steel threading die. A typical thread cutting die is circular with a cutting edge equipped hollow center. The cutting edges are usually interrupted at regular intervals by cut-outs which reduce the bearing surface of the cutting edges, thus easing the stress placed on the die and aiding in chip removal. The cutting edges of a threading die are also tapered outward towards the first cut to ease the effort required. Thread dies are usually available in sets featuring a selection of die sizes and often including tap dies used to cut internal threads.
A manually cut thread is started by slowly turning the threading die onto the pipe while maintaining forward pressure on the handle and die. Once the initial part of the thread has been cut, the die will advance itself along the existing threads so that rotational force alone is needed to continue cutting. The cutting action should be carried out in small increments with frequent stops to give the die a half turn or so backward to break off and clear cuttings. This process is then continued until the required length of thread has been cut.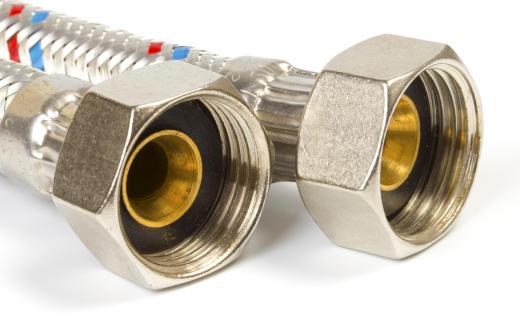 Threading dies used in powered thread cutter are similar in design although they are often of a two part clamshell design. The cutting relief systems of these dies are also a little more generous due to the torque involved in power cutting. All threading dies should always be used with an approved cutting paste or compound which lubricates the die during cutting and helps remove cuttings. Due to the ever present possibility of tool bit fracture and the extreme sharpness of newly cut threads, eye and hand protection should also be worn at all times when using a threading die.
AS FEATURED ON:
AS FEATURED ON:







By: teptong

A threading die is used to cut threading onto metal parts such as screws.

By: injenerker

A threading die can be used to cut threads, or grooves, into pipes so they can be screwed together.