What Is a Telehandler Forklift?
A telehandler forklift is a type of machine used to lift pallets or other objects to heights using a telescoping arm. This arm is usually operated using hydraulics, and it can reach heights not attainable by smaller, vertical forklifts. The telehandler forklift tends to be larger than most other models of forklift, and it often uses pneumatic tires rather than the solid rubber tires common on smaller forklifts. These machines are commonly used on construction sites to lift pallets of materials to upper floors of buildings, or in larger warehouses outfitted with exceptionally high shelves.
While the telehandler forklift can be outfitted with several different attachments, the forklift attachment is the most common one used on the machine. This allows the driver to unload pallets of materials from a truck or other surface, and load that material onto a rooftop or other high surface. The telescoping arm allows the telehandler forklift to operate in situations a normal forklift cannot handle, making it a popular choice for agricultural or industrial purposes. The telescoping feature can be a disadvantage as well, however, as the farther the load telescopes, the less stable the vehicle becomes.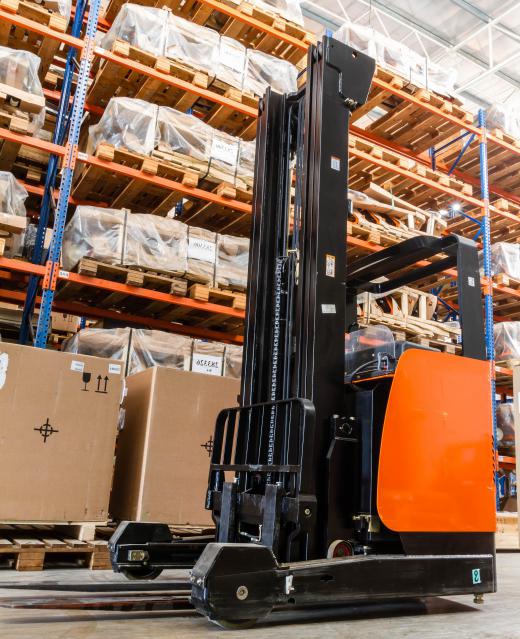 To counter this problem, many telehandler forklift models are outfitted with outriggers that extend from the front of the vehicle. This adds some stability, but the outriggers do not solve the problem entirely. The vehicle may be equipped with sensors that will cut off the power to the telescoping boom or other features of the telehandler forklift if the load is making the vehicle unstable. Drivers of the forklift will usually be equipped with a chart that will allow them to calculate whether a load can be lifted safely to a given height, possibly avoiding a mishap or dangerous accident that can cause damage to the vehicle or potentially lead to human injury.
Without a telehandler forklift, a crane would be required to lift materials to heights greater than those attained by a conventional forklift. In a sense, telehandler forklifts are a type of crane, though unlike cranes, the telehandler cannot move its boom in many directions. The telehandler is usually only capable of up and down movement, as well as forward and backward movement, thanks to the telescoping motion of the boom. The size of the forklift will dictate the height at which it can operate, as well as the weight of the loads it can haul.
AS FEATURED ON:
AS FEATURED ON:







By: bugphai

The telehandler forklift tends to be larger than other models of the vehicles.