Stem walls are supporting structures that are used as a means of joining the foundation of a building with the vertical walls constructed on the foundation. The wall is often constructed with the use of concrete and steel, and works with the foundational slab to create a solid basis for the building. Along with establishing foundational integrity for the building, these walls also aid in minimizing damage to the materials used to create the vertical walls.
When creating a house foundation involving a slab, the stem wall is adhered directly to the slab. Usually, it is made using cinder blocks that are reinforced with the use of steel components and concrete. In appearance, this wall sits on top of the slab and effectively provides builders with something to attach the walls of the structure to the slab.
While the slab may be at ground level or even recessed slightly into the surrounding ground, the stem wall rises above the surrounding ground level. Along with making it easier to attach vertical walls to the slab, the wall provides a raised platform for the walls. This can be important, especially if the materials used in creating the vertical walls are subject to deterioration from exposure to ground moisture or insects such as termites. By lifting the walls of the structure slightly above ground level, damage of this type is less likely to occur.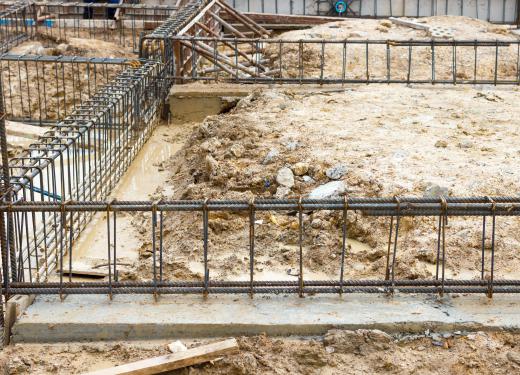 The presence of a stem wall is common to the construction of many different types of buildings. In addition to residential housing, public buildings often include one as a means of anchoring wall construction to the foundation. Manufacturing plants are also constructed with one for added protection and stability.
Not every building design uses this type of supporting structure. Those that are raised off the ground with the use of risers may or may not find the use of this device necessary, since there is no ground slab used in the overall design. There are building designs that make use of a wooden foundation coupled with a wood stem wall protrusion. While not serving all the same purposes as the concrete wall version, it does still provide additional support for the structure that is erected on a raised foundation.
AS FEATURED ON:
AS FEATURED ON:







By: moonrise

Stem walls join the foundation with the vertical walls.

By: wittybear

Steel is often used to attach the stem wall to the foundation.

By: tsach

Cinder blocks that are reinforced with steel and concrete are often used in home stem wall construction.

By: stoonn

In some areas, building codes require poured footings with stem walls made of cinder blocks or other masonry.

By: thejimcox

Batter boards are commonly used to help keep a slab and stem wall square during construction.