A silo is a structure which is designed for the purpose of bulk materials storage. It may be temporary or permanent, depending on the setting. The classic image of a silo is the grain or silage silo used in farming communities to store bulk grain and silage. However, silos are used in many other settings, to hold a wide variety of things. Silos are used all over the world for storage of bulk materials in settings ranging from grain collection facilities to mines.
There are several different styles of silo. When many people think of silos, they often visualize a tower silo. Tower silos are cylindrical towers which can be made from concrete, brick, metal, wood, and other materials. The volume of the silo varies, depending on the diameter and the height, but the structure can usually accommodate a lot of material. Loading and unloading is done with automated systems which move goods in and out of the silo.
Bunker silos are built by digging a trench and lining it. The trench is topped with waterproofing materials. Such silos can be installed on a temporary basis or made more long term, depending on how they are being used. Automated systems for loading and unloading can also be used to manage a bunker silo. Such silos tend to be more low profile than tower silos, and they are also better insulated, because the earth acts as a natural insulator.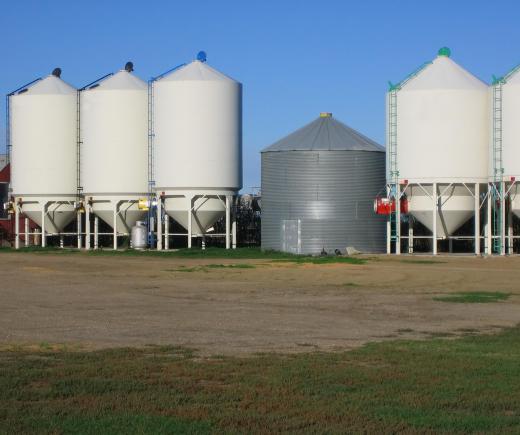 When temporary storage is needed, people can use bag silos, long tubes, usually made from plastic, which are filled with materials and then sealed. This technique may be used to manage everything from excess feedstock to animal waste. Such silos are commonly filled by being hooked up to a tractor attachment which blows or pushes materials inside. As long as the seals hold, they can last for an extended period of time.
In all cases, silos provide a dry, controlled, secure environment for goods. They can be used to store materials until they are needed, to keep a reserve or supplies on hand, or to aggregate materials from a group for easy pickup. For example, in a farming community, multiple farmers might pool grain into a single large silo at harvest so that buyers for the grain can simply go to the silo, rather than needing to travel from farm to farm to collect the grain. Farmers are compensated at a rate determined by how much grain they loaded into the silo.
AS FEATURED ON:
AS FEATURED ON:







By: smereka

Corn is often stored in a silo.

By: Tootles

A grain silo is often used in farming communities for bulk storage.

By: Johan Larson

Grain farmers may pool their crops together in one silo to make it easier for grain buyers.

By: Leonid Smirnov

Grain farms commonly use silos for storage.