What Is a Handled Top Tool?
A handled top tool is any conventional blacksmithing device fitted with a handle to allow its use with a sledge hammer and in proximity to extreme temperatures. This tool range generally includes most of the tool types usually held by hand such as punches, chisels, set, and cutters. Handled top tools feature several handle types including wooden and steel integral handles and removable tong or wire handles. Handled top tools typically include sets of different size units and accessories such as mushroom ends.
In blacksmithing, handled top tools are basically conventional hand-held tools which include a long handle. The handle allows the blacksmith to safely and comfortably use the tools with heavy sledge hammers, power hammers, and hydraulic presses. The handle also affords an element of separation between the blacksmith and red hot workpieces. Most hand-held tools such as punches, chisels, cutters, and slitters are available in handled top tool configuration.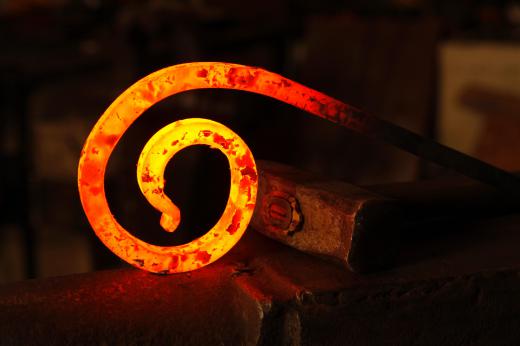 The tool handles may be made from wood, steel bar, or steel rods and wire. Wooden handled top tools feature the same sort of handle arrangement as those seen on hammers. The tool will have an aperture at one end through which the handle is secured with epoxy or steel wedges. Steel wedge handles are generally preferred as they allow the handle to be removed and replaced when damaged. Steel bar handles are typically welded permanently onto the tool.
Wire and rod handled tools have a groove or channel machined into the body at the non-working end. The handle is bent from heavy gauge steel wire or rods and has a loop at one end which fits into the groove on the tool. These tool variants are also often used with blacksmith tongs which resemble robust pliers. The tongs are positioned so that their jaws grip the handled top tool in the groove, thereby preventing it from being knocked out of the tongs during use.
Handled top tools are available as single items or in sets featuring several different sizes or shapes. These sets include punches, cutters, and slitters and typically contain up to 10 different tool variations. Accessories such as mushroom ends are also available in these tool selections. These add-ons are shaped like a mushroom and fit onto the back of the tool, thereby offering a larger striking area for the hammer. Tool sets often include one mushroom end which is then used on all the tools.
AS FEATURED ON:
AS FEATURED ON:







By: walko44

Blacksmithing tools are generally made with a handle that allows them to be used in proximity to extreme temperatures.

By: Georgy Khrushchev

Blacksmiths often use handled top tools, which allow for work with sledgehammers and on very hot metals.

By: T.Tulik

Anvils have been used for metal working for centuries.