A screw clamp is a type of fastener that uses a screw as the main method of holding the clamp together. There are many different styles of screw clamp, each with its own purpose. The only thing they all have in common is the screw used to hold them. Screws are used as a method of clamping items since, once placed in a position, they require a very large amount of force to loosen accidentally. The screw is one of the six simple machines; it seems very basic at first glance, but its applications are nearly endless.
There are a wide range of ways to construct a screw clamp, but two of the more common methods are used in a C-clamp and a hose clamp. A C-clamp consists of a solid piece that looks like the letter C and a screw that moves up through the bottom of the C until it touches the top. The part of the screw outside the C-shape typically has a handle to allow the user to turn the screw more easily.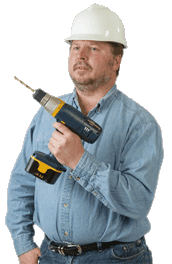 A hose clamp is shaped like the letter O. This clamp uses a screw on one side to open and close the loop. A widened hose clamp may be slid over a hose and then tightened using the screw to connect two hoses, produce tension or create a location for an attachment such as an external device or hook.
While these two clamps have little in common in terms of use or appearance, the screw works the same way in both instances. A screw is easy for a user to turn; it generally requires very little effort to screw in or out, no matter the overall circumstance. Once the screw is set, it stays tight regardless of what the clamp is being used for.
The reason a screw clamp stays tight, yet moves so easily, is because of the different types of force applied to the screw. The user applies rotational force; the user spins the screw to make it go in and out. This works along with the screw's construction and design, which overcomes the friction generated by the screw's threads. When the screw is set, the force applied pushes along the screw's shaft; basically, the pressure pushes straight down on the screw. This downward force creates friction between the threaded areas of the screw, preventing movement.
The only time a screw clamp will have difficulty holding is when attached to something with high vibration. When something vibrates a screw clamp, it creates thousands of tiny motions. Essentially, every pulse in the vibration is a small movement. Since these movements are so small, they can overcome the friction present in the threads and slowly cause the clamp to loosen.
AS FEATURED ON:
AS FEATURED ON:







Man with a drill