A rotary hose is used in oil well drilling. It acts as the crucial instrument in the connection being made between the standpipe and the swivel. A rotary hose is also used as a means of permitting the kelly to be either raised or lowered through the drilling process while also allowing the drill bit to be raised with the drillstring. For this reason, it is also often referred to as a "kelly hose."
Rotary hoses also function during the process that allows the drilling fluid to be pumped through the hose when the bit and drillstring are raised and lowered. This process is imperative in the completion of the drilling process. The drillstring portion of the drilling line and the connection to the rotary hose is thus crucial.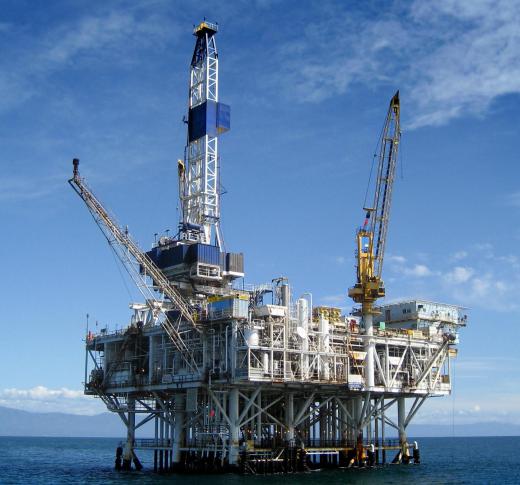 The typical diameter of a rotary hose ranges anywhere from 3 to 5 inches (7.62 to 12.7 cm) on the inside of the hose. Its size helps to maintain the movement of the drilling fluid through the flexible hole as the drill is performing its duty. These high-pressure hoses are connected to the standpipe, which is the sturdy and stiffened metal pipe used as the head of the drilling unit.
The sandpipe is also an essential tool in the process of burrowing into the ground and removing large amounts of mud with the drill bit. This pushes the drilled mud through the standpipe and into the rotary hose. As a result of the intense work the standpipe must do, most derricks, or three-part drilling apparatuses, utilize two standpipes simultaneously. This way, should one malfunction, the other may be exchanged with it immediately to significantly decrease any downtime.
Since rotary hoses connect the standpipe to the swivel, which is a moving part within the derrick, the material used to fabricate rotary hoses is required to be flexible, yet strong enough to withstand high amounts of fluid pressure. As a result, the rotary hose is usually made from a strong rubberized polymer strong enough to contain the drilling fluid being pumped at high rates while still allowing the necessary give in the system. Having some give is important so the pressurized fluids don't create any instability within the system. The rotary hose moves along with the swivel at one end, while the end connected to the standpipe remains stationary so that drilling fluid may be circulated properly throughout the derrick.
AS FEATURED ON:
AS FEATURED ON:







By: eyeidea

An offshore oil platform. A rotary hose is an important part of oil well drilling.

By: lightmoon

An oil well drill rig. The rotary hose can be seen hanging from the yellow swivel.