Automotive hoists, also known as auto lifts, are used to raise vehicles off the ground to allow technicians to make repairs. The term Rotary hoist refers to a specific hoist brand name. This company manufactures light-duty lifts for raising standard cars, and heavy-duty lifts which are used for servicing large commercial trucks and buses. A number of varieties are available, including scissor lifts, Y-Lifts™, and several hydraulic versions.
The Rotary hoist company was founded in 1925, and produced the first hydraulic automotive lift in the world. The brand is a subsidiary of the Dover Corporation. Rotary's headquarters and main factory are both located in Madison, Indiana.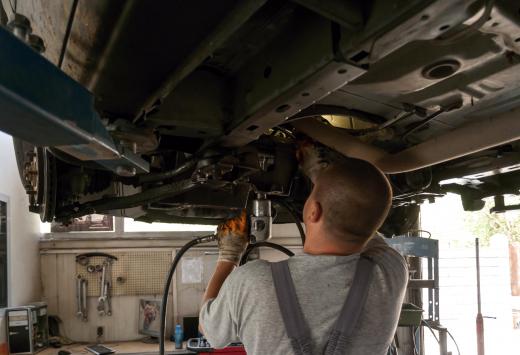 There are several different types of Rotary hoist products. The most lightweight model in Rotary's lineup is the low-rise scissor lift. This hoist design is intended to elevate passenger cars and light trucks, and has a rated capacity of 10,000 pounds (about 4536 kg). A slightly larger version called the Y-Lift™ is rated for 12,000 pounds (about 5343 kg).
Rotary offers several two-post hoists models for cars and trucks. These two-post lifts use two opposing steel columns to raise a vehicle using hydraulics. The hydraulic cylinders within a Rotary lift are synchronized using cables. This synchronization prevents one side of the lift from rising faster than the other, and keeps the vehicle level as it is lifted. The two-post hoists are available with capacities between 10,000 and 18,000 pounds (between about 4536 kg and 8165 kg).
Four-post Rotary lifts are designed for heavy commercial vehicles, including semi trucks and passenger buses. As with the two-post version, four-post hoists use hydraulic cylinders that are kept synchronized using cables. Heavy-duty hoists are available in 40,000 and 60,000 pound (about 18144 and 27216 kg) lifting capacities, and use drive-on platforms called runways to hold vehicles as they are raised. All two-post and four-post Rotary hoist models feature mechanical safety locks which engage automatically. These locks prevent a vehicle on a lift from falling if hydraulic power is lost.
The Rotary SmartLift® hoist is designed for small service bays that can't accommodate normal two or four-post lifts. In a Rotary SmartLift®, the hydraulic systems are contained in a cartridge that's securely sealed. This cartridge is installed underground. When the lift is used, hydraulic cylinders rise out of the floor to lift a vehicle. The mechanical structure of the SmartLift® Rotary hoist lowers out of the way when not in use. SmartLift® units are available with capacities typically between 9,000 and 12,000 pounds (about 4082 to 5443 kg).
AS FEATURED ON:
AS FEATURED ON:







By: Diyanski

Automotive hoists are used to give auto mechanics access to the underside of vehicles.