What is a Roller Bearing?
A roller bearing is a cylindrical or spherical object that aids in the movement of items, typically those that are heavy or large. The primary function of the bearing is to reduce the friction and resistance that occurs while moving an object. Roller bearings are often found in machinery or industrial products, like conveyor belts, where they help facilitate a smooth and efficient transfer of objects by acting as a weight distributing device. Typically, a bearing has many points of contact between a circular housing that contains internal rolling elements, such as ball bearings that sit within a collar.
An example of how a roller bearing system works can be demonstrated with a large block of wood that is pulled across the ground. The block is heavy, drags, and takes considerable effort and time to move. If the block is put on top of a group of metal pipes and pulled again, the block can be moved more easily because the friction has been reduced and the pipes are in constant motion.
There are many different designs and types of roller bearing systems that may be used in machine and industrial applications. The cylindrical roller bearing consists of a metal collar that contains a smaller, toothed wheel inside. Within the wheel, there are ball bearings that are held in place by the teeth on the wheel. As the load travels, the wheel turns, but the weight of the load remains fixed directly over the spherical ball bearings inside the cylinder.
Roller bearing systems can be complex, but most are usually simple in design and engineering. One common and basic system includes bearings placed under a heavy item. This type of roller bearing can be found in machine applications, like a conveyor belt, where the roller unit allows the heavier item to be moved easily by reducing friction and distributing the weight of the object.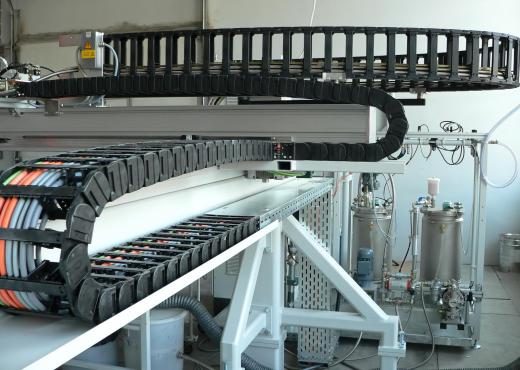 The number of ball bearings within a roller bearing also helps decrease the amount of force necessary to move the object. The higher the number of ball bearings making contact with both the bearing housing and the object being moved, the greater the friction is decreased. This is because each ball bearing acts as a weight distributor and spreads the weight out in a linear pattern, allowing the bearing wheel to spin freely and the objects to move smoothly.
AS FEATURED ON:
AS FEATURED ON:







By: j_paul

Roller bearings are cylindrical or spherical objects that aid in the movement of heavy or large items.

By: JPS

Many types of axle systems, such as those on bikes and vehicles, use ball bearings.

By: Dreef

Most types of conveyor machines use bearings -- much like those found in common bicycle wheels -- that help wheels and other movable parts glide freely.