What Is a Powder Adhesive?
A powder adhesive is an adhesive product which is sold in a powdered form. There are a wide range of uses for powder adhesive, and it is available from a number of sources, including companies which can develop custom formulations for specific needs. There are a number of advantages to working with adhesive in this form which make it especially popular in industrial settings.
One advantage to powder adhesive is that it is lightweight, which makes it easier and cheaper to transport. Unlike adhesives which are sold wet, it also can't dry out, gum up the containers it is stored in, or cause similar problems. This type of adhesive can also be highly flexible, with people mixing it as needed instead of relying on premixed adhesive, using the adhesive in many different ways and avoiding the common problem of ending up with leftover wet adhesive which must be used before it sets and becomes unusable.
With powder adhesive, the adhesive is added to water or another fluid for mixing when it is required. Powder adhesive can often be used in pressurized systems which are designed to spray an even layer of fluids onto a product. For example, powder adhesives are used in powder coating to help powder coated materials adhere to various surfaces. When the powder coated material is heated, the adhesive and components of the powder coating interact to make the coating permanent and solid.
This adhesive product can be designed to adhere to a wide variety of surfaces, including metal, glass, wood, and stone. These adhesives can also be developed for medical use; users of dentures, for example, can utilize denture powder to fix their dentures in place. In this case, the adhesive turns into a paste when it mixes with water, swelling and anchoring the dentures to the jaw.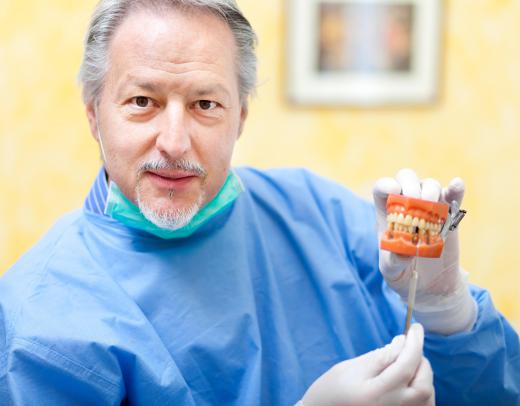 Powder adhesive can also be used as a binder material in mixes and slurries. Mortar, for example, includes adhesive which will hold the mortar together after it dries. It can also be utilized for dry adhesive tasks, in which case the adhesive is applied in direct form and the objects to be adhered are cured, usually with the addition of heat, causing the adhesive to react and form a bond.
When selecting powder adhesive, it is important to seek out a product which is right for the task. The labeling usually clearly indicates which sorts of applications the adhesive is suitable for, and may contain usage recommendations and warning which should be clearly noted. Powder adhesive should be stored in a cool, dry place.
AS FEATURED ON:
AS FEATURED ON:







By: stoonn

Powder adhesives are sometimes used as a binding material in mortar mixes.

By: Bartkowski

Powder adhesives may be used to keep dentures in place.

By: Minerva Studio

Wearing ill-fitting dentures can increase air intake and cause flatulence.