A plunger pump is a device used at wastewater treatment plants, car washes, food processing plants, and in the oil and gas industry to regulate the flow of fluids. It consists of two valves mounted in a pumping chamber that controls the action of a plunger into a suction force or discharge force. The design of the machine allows solids to flow freely without clogging the system.
Also called a well service or high viscosity pump, this positive displacement pump uses a mechanism in a cylinder to create action that builds pressure. The pressure forces gas, liquid, or sludge through the pump. Chambers at the inlet valve and outlet valve are both activated by the pressure. The actual plunger can be made from various metals depending on its intended use. When a plunger pump is used at offshore oil rigs, a solid ceramic plunger prevents corrosion from salt water.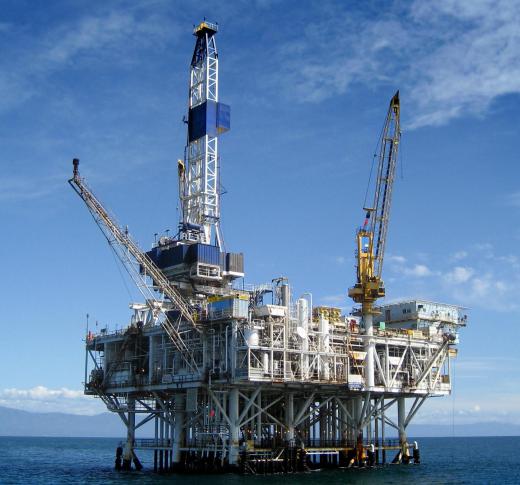 Stainless steel is routinely used for plunger pump chambers in the food, pharmaceutical and chemical industries. The chamber can be sterilized after animal waste or chemicals pass through to prevent contamination. These features allow companies to comply with safe processing regulations.
Two kinds of plunger pumps are commonly purchased for home use. A high pressure washer uses the same mechanism as heavy duty pumps. Many homeowners find a portable pressure washer suitable for tough cleaning projects. Sump pumps are often needed when a basement becomes flooded. Both of these types of pumps create pressure through the action of a plunger.
Piston pumps are similar to a plunger pump. The main difference between the two is that a piston moves liquids or solids in place of a plunger. Piston pumps are designed as axial piston pumps or rotary piston pumps, with an internal rotating device that controls flow and pressure. In both types, the capacity is determined by the number of plungers or pistons and the speed of the action.
Trailer-mounted plunger pumps were first produced in 1928. These simple machines could be moved to any areas where high pressure applications were needed. A machine was used by the United States military during WWII to build a remote air base in the South Pacific. The modern, trailer-mounted plunger pump is used for municipal sewer and industrial waste spills, lagoon pumping, and in oil fields.
AS FEATURED ON:
AS FEATURED ON:







By: eyeidea

A plunger pump can be used on offshore oil rigs to help control the flow of fluids.

By: oocoskun

Sump pump are examples of plunger pumps.