A plumbing trap is a curved pipe that is located underneath a plumbing fixture. A plumbing trap is an essential part of a building's plumbing for two main reasons. The first is that a trap prevents the entry of odors into a building. Secondly, a trap also catches items that may cause major clogs or blockages if allowed to travel further into the drainage system. In most municipalities, the installation of plumbing traps on all plumbing fixtures is required.
The plumbing system of a home or building generally drains into a municipal sewer system or into a septic tank system. In a sewer or septic system, the products in the sewage and wastewater generate fumes and gases that most would consider unpleasant at best and downright unbearable at worst. Without the plumbing trap, the gases and fumes would enter a building through the drainage system.
Plumbing traps work by utilizing a curved shape in the pipe. The earliest traps were S-shaped, but most plumbing traps today are made in a U-shape. Plumbing traps are also often referred to as P-traps as they resemble the shape of a P when facing a certain way.
A plumbing trap is simple, yet extremely effective. The design allows water to drain through it, but the curve of the pipe keeps a small amount of water in it at all times. The water that remains in the curve of the pipe forms a barrier that prevents unpleasant fumes produced by a septic or sewer system from entering a building. The curve design is also what allows the trap to catch items dropped into a drain, such as jewelry, before it is completely drained away.
When there is a clog or blockage that is preventing the effective drainage of a sink or a bathtub, the clog is often located in the curve of the trap. A plumber's snake is a recommended tool to clear a blocked pipe. A plumber's snake is a cable that is inserted into the drain. The end of the cable has an auger head that enables the snake to dislodge any debris that is creating the blockage.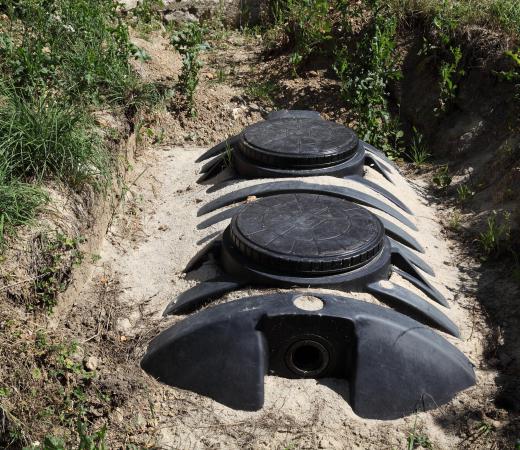 Other suggestions for clearing a blocked drain include using a plunger or chemical drain opener. Many plumbing traps are now manufactured with a clean-out valve at the bottom of the curve in the pipe, to make it easier to access the plumbing trap for cleaning and draining.
AS FEATURED ON:
AS FEATURED ON:







By: Berislav Kovacevic

P-traps prevent gases from returning up a drain and into the house.

By: flashpics

Traps are located underneath a plumbing fixture.

By: gozzoli

A plumbing trap can help keep foreign objects from becoming lodged in a septic tank.